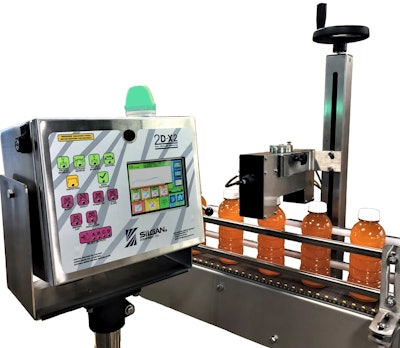 At PACK EXPO Las Vegas, Silgan Equipment presented its 2D-X2 inspection system, which employs dual lasers to scan the surface of the cap on a packaged beverage or food product to determine proper cap sealing.
The side-by-side laser beams scan the top surface of each packaged beverage or food product cap to detect cap tilt and overall cap height to ensure proper sealing. As filled and capped containers pass, the lasers scan the surface of each cap to identify rejects for removal downstream, such as uneven cap height or nonstandard package height. The system can inspect 30- to 110-mm plastic, metal and composite caps on containers 1 1/4- to 14-in high. The 2D-X2 can inspect container caps at a rate of up to 800 per minute, depending on container and cap size.
Operators access the system controls through a full-color touchscreen HMI, while the system software stores and recalls job files, displays inspection results and generates production statistics. They set up an inspection by stepping through the HMI-directed setup procedure, using samples of good and bad cap placement on containers to adjust the inspection parameters. When the inspection is configured and runs well in production, it can be saved as a job file for instant recall when that same container and cap combination is run in the future.
During a changeover to a new container and cap, the line operator selects the previously-stored job file on the HMI screen and sets the height and beam spread of the laser unit. The sensor height is adjusted by a handwheel, and the beam-spread adjustment by a rotary knob, allowing for fast and accurate placement. Running a few test containers ensures that the system is properly adjusted, and production proceeds. The system software records production statistics, including number of rejects, for use in continuous improvement efforts. This data can be immediately recalled in the event of an FDA inspection visit.
The 2D-X2 system installs over an existing conveyor line, saving valuable floor space. The system is compact: The laser housing and stand occupy only 6 in. of conveyor length, and the HMI control box measures 15 in. x 15 in. x 9 in. and features adjustable tilt. The lasers are mounted in a protective housing rated NEMA 4X, resistant to washdowns and the harsh conditions of the processing environment. Power requirements for the system are 100-240 VAC.
To learn more about the Silgan Equipment 2D-X2 inspection system, visit Booth 6225 in the Lower South Hall.
Companies in this article