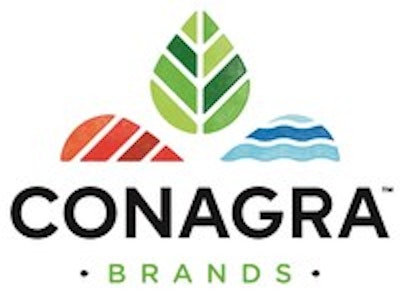 Conagra Brands has announced the winners of its annual Sustainable Development Awards, an employee-led program that encourages the development and implementation of innovative ideas related to sustainable production and business practices. This year, employees from across the organization submitted a record 211 sustainability-focused projects that conserve water, reduce waste, and save energy. Winning teams were presented with awards at ceremonies in Chicago and Omaha.
This year's Sustainable Development Awards projects decreased the company's carbon footprint by 7,600 metric tons, conserved 95 million gal of water, and reduced waste by 11,400 tons on an annual basis. Award-winning employee teams help direct a total of $30,000 in grants from Conagra Brands to local sustainability-focused public service projects.
---
---
This year's winners are:
Sustainable Brands: Duncan Hines: Chicago and Centralia, Ill.
By reducing the amount of palm oil in Duncan Hines' milk and dark chocolate flavors, the team was able to avoid the use of more than 797,000 lb of sustainably sourced palm oil.
Waste Reduction & Recycling: Imlay City, Mich.
At Conagra's Vlasic pickle facility in Imlay City, the team eliminated 93 tons of waste by installing four level sensors to monitor the produce level on conveyors, automating the process by adjusting its speed to reduce excess waste.
Water Conservation: Irapuato, Mexico
Conagra's Irapuato team saved 9 million gal of water through measures such as implementing a water leak detection program, which allowed the team to identify and proactively address leaks.
Climate Change & Energy Efficiency: Marshall, Mo.
By adding baffles to the back of each rack column in freezer blast cells to force airflow through product pallets, Conagra's Marshall facility reduced freeze time, increased plant capacity, and lowered electricity consumption by 5%.
Sustainable Operations: Troy, Ohio
The Troy facility created a cross-functional team to work on a blend pairing strategy and a tool to document every step of the Slim Jim production process, determining moisture was the key variable to a more even cook. The project eliminated 5.6 tons of waste and generated in $1 million in cost savings.
People's Choice Award: Irapuato, Mexico
At Conagra's Irapuato facility, the team installed 280 solar panels in their finished good distribution center and 236 solar panels in their facility. The new solar panels generated 47% of total distribution center electricity consumption and 2.6% of total electricity consumption at the facility. In addition, this project eliminated 278 metric tons of Scope 2 greenhouse gas emissions.
Award of Excellence: Fayetteville, Ark.
Instead of operating its boiler house with all three boilers at the same setpoints, the Fayetteville facility now utilizes setpoints to have one boiler running near 100% capacity before ramping up the second boiler, all while having the third boiler turned off. The project saved 27,000 decatherms of natural gas.
Companies in this article