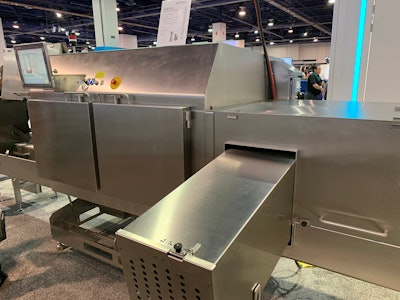 Aaron Hand
At PACK EXPO Las Vegas, Wipotec debuted an X-ray technology designed specifically for food and beverage applications with filled and sealed glass containers. In addition to detecting micro-leaks as small as 0.1 mm, the SC-S 5020 X-ray Scanner can provide foreign body detection, fill level check, and confirmation of proper screw cap or lid closure.
With previous X-ray systems geared toward a range of food packaging or bulk materials, this is Wipotech's first focused on glass jars, according to Kelvin Binns, sales director for Wipotec's CPG group. "We're using various different spectrums to look through glass jars," he says. "Any product—like pickles, peanut butter, olives, any product that's in some kind of clear jar—we have the ability to look through and decipher contaminants."
The system provides full inspection of upright containers in various heights and angles, enabling optimum product handling—even for tall or slender containers—at throughput rates up to 60,000 products per hour. Easily integrated into existing filling lines without the need for opening an additional transport route, the SC-S 5020 features ejectors capable of sorting faulty products into lockable rejection bins, or conveying them upright into a sort lane.
Its modularity also enables the X-ray machine to grow with you, Binns notes. "If the line continues to change over time, because our equipment is 85% vertically integrated, we have the ability to change and modify the equipment if you need add-ons in the future."
Like all Wipotec X-ray scanners, the machine comes with a user-friendly operator interface highlighted by a 15-in. color touchscreen that displays real-time inspection statistics.
Companies in this article