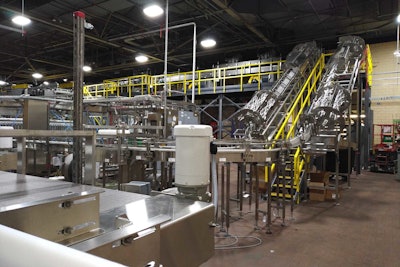 Photo courtesy of City Brewery.
Working fast has new meaning for City Brewery. When the La Crosse, Wis.-based co-manufacturer saw beverage trends shift to aluminum cans and flavored hard seltzers, City Brewery accelerated its five-year modernization plan to accommodate those consumer demands. It upgraded the canning lines at its Latrobe, Penn., plant in six months with controllers, AC drives, and HMI software, allowing the facility to triple its canning capacity and deliver efficiency to its operations.
City Brewery is one of the largest co-manufacturers of beers, teas, energy drinks, and soft drinks in the U.S. The company has three production facilities in La Crosse; Latrobe; and Memphis, Tenn., that produce more than 130 million cases of beverages a year for a variety of small and large brands. Staying current with the latest beverage trends is crucial to it success, according to the company. When City Brewery saw more consumers gravitating toward aluminum cans, including sleek 12-oz cans instead of glass bottles, and younger people reaching for flavored malt beverages as an alternative to beers, it decided to update its operations at its Latrobe plant to meet those changing consumer tastes.
The beverage processor had already developed a five-year plan to modernize and expand its canning lines at its Latrobe plant. It included producing more beer in standard aluminum cans and sleek 12-oz cans. The company's plan also involved producing and canning flavored hard seltzers, a market that reached nearly $500 million in sales in 2018, according to a 2019 study from market research firm Nielsen. City Brewery decided to speed up the timeline of its modernization plan from five years to six months after seeing these trends gain traction with consumers.
Prior to the upgrade, City Brewery had two canning lines, each with a filler on the front end and a packer on the back end. Because both lines fed into the same pasteurizer, City Brewery could not run both at the same time. In addition, the company didn't have the canning equipment to produce thin, sleek 12-oz cans.
"Cans have become all the rage, and our canning capacity was getting constrained," says Mark Siegel, plant manager at the City Brewery Latrobe facility.
Full speed ahead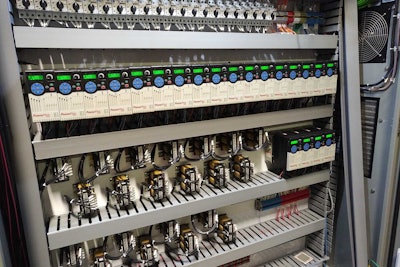 To boost capacity of its canning lines, City Brewery updated the Latrobe plant's two existing canning lines. It added a second pasteurizer and third packer, creating two standalone canning lines that can run concurrently and send cans to any of the packers. The upgrade included migrating the obsolete drives and controllers to Allen-Bradley PowerFlex 525 drives and ControlLogix controllers from Rockwell Automation to maximize performance by enhancing process and motor control, reducing energy usage, and generating energy efficiency.
City Brewery also added a third canning line. This line runs up to 1,700 cans per min—the plant's most productive line—and is able to run slim 12-oz cans.
The beverage processor was able to install the lines in six months thanks new control technologies, including add-on instructions (AOI) that allow coding to be reused. "I created the AOIs for the first canning line, and then I copied and pasted them for the other two lines," says Derek Stickel, automation manager for Rogers Electrical Contracting, the company that managed the construction and installation. "It made a huge difference. It probably helped shave off six to eight weeks of programming work."
Efficiency at work
As part of the upgrade, the Latrobe facility migrated to the FactoryTalk View human machine interface (HMI) software from Rockwell. The software provides more detailed visualization of the canning lines than the legacy system. Its recipe-management capabilities also allow operators to use preloaded conveyor speeds for each changeover instead of manually setting those speeds themselves.
"The ability to accurately and quickly balance the line has been the single biggest efficiency," Siegel says. "Rather than relying on foremen or supervisors to go in and change the right eight conveyor speeds, operators can now just tell the HMI what they're running and then the preset speeds are loaded."
The plant also standardized on EtherNet/IP, with almost 100% of the brewery's equipment remotely accessible. Maintenance workers can now quickly access, troubleshoot, and diagnose issues from anywhere inside and outside the plant. In addition, by standardizing on control technologies, workers reduce the spare parts they need to keep on hand and only need to develop expertise with a few technologies.
These new controls and HMI software have not only optimized operational efficiency, but they have also helped the Latrobe plant triple its canning capacity to about 48 million cases annually and produce flavored hard seltzers in distinct sleek cans that appeal to consumers.
"These upgrades are more efficient and ultimately leads to less downtime so we can make more cases," Siegel says.
Companies in this article