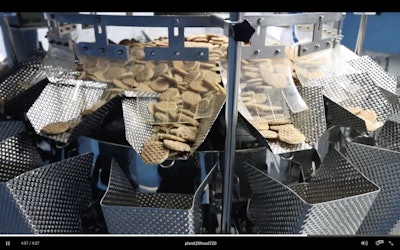 Plan IT Packaging Systems demonstrated for PACK EXPO Connects its Mars Vertical Form, Fill & Seal Packaging System uses rolls of film to make bags–quadro bags, pillow bags, and gusseted bags all with or without zipper reseal ability–and it's 20-head Apollo multi-head scale.
The Mars High-Speed Continuous is designed to fil 250 packages/min. It has toolless removable forming tubes for easy changeover and cleaning of product parts. For high-speed functions, the system uses vacuum pull belts and servo-driven box-motion jaws.
The system is outfitted with a Mettler Toledo probe metal detector to detect metal particles prior to entering the bag. Baggers are available in stainless steel for wet environments. Also outfitted with 10" colored Beckhoff touchscreen for user-friendliness, the system can store up to 150 recipes for faster changeover times.
For troubleshooting purposes, the company can connect to the system remotely through ethernet cable. The system has quick disconnect ports to connect the scales to the conveyors.
The 20-head Apollo multi-head scale is designed with memory buckets that are used to achieve high-speed capabilities. Bucket and pan surfaces are also dimpled for applications with sticky product. High-end German and Japanese load cells are included for accuracy within 0.05 grams. Toolless removable buckets and pans are meant to make for easier maintenance and changeovers, and the machine has full washdown capability.
These systems are used in the food industry with snacks, confectionary, powders, and frozen foods, as well as the pharmaceutical and cannabis industries.
Content will be available through March 2021. See more here.
Companies in this article