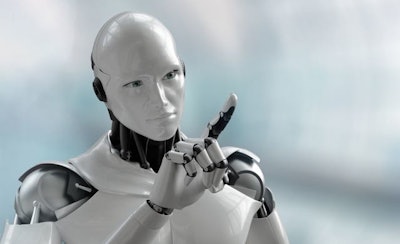 Robots have long been a manufacturing mainstay—tasked with doing the heavy lifting on the assembly line or taking over tedious repetitive motions. Up until recently, however, they've been limited to basic activities, typically on the automotive factory floor. But advancements in the form of small, light-weight collaborative robots, cloud analytics and artificial intelligence are ushering in a new era of robot applications and collaboration that will support a wide variety of industries.
Industry observers say these new robot systems will transform the way products are made, as well as the way people work.
"The next step is changing the way we work globally," said Esben Østergaard, CTO of collaborative robot company Universal Robots during an interview at IMTS 2016. "What's changing is what an effective worker is. Before people were working like robots. If we can free people on the factory floor from working like machines [they can provide] extra added value to produce the products that consumers want."
Looking at how robots will change the manufacturing space, analyst firm IDC recently published a report that predicts the future of this market. The report titled "IDC FutureScape: Worldwide Robotics 2017 Predictions" outlines shifts in business models, the competitive landscape, regulations, talent and use cases, all of which are driven by technological advancements in artificial intelligence, computer vision, navigation, sensor and semiconductor technologies.
Furthermore, IDC predicts much of the robot growth will happen outside of the traditional factory floor, indicating that 35 percent of leading organizations in logistics, health, utilities and resources will explore the use of robots to automate operations by 2019.
According to IDC, here are the other top ten predictions and major robotics trends that are set to present opportunities and challenges to IT leaders in 2017 and beyond:
Robot as a Service. By 2019, 30 percent of commercial service robotic applications will be in the form of a "Robot as a Service" business model, reducing costs for robot deployment.
Chief Robotics Officer. By 2019, 30 percent of leading organizations will implement a chief robotics officer role and/or define a robotics-specific function within the business.
Evolving Competitive Landscape. By 2020, companies will have a greater choice of vendors as new players enter the $80-billion information and communication technology market to support robotics deployment.
Robotics Talent Crunch. By 2020, robotics growth will accelerate the talent race, leaving 35 percent of robotics-related jobs vacant while the average salary increases by at least 60 percent.
Robotics Will Face Regulation. By 2019, the government will begin implementing robotics-specific regulations to preserve jobs and to address concerns of security, safety and privacy.
Software Defined Robot. By 2020, 60 percent of robots will depend on cloud-based software to define new skills, cognitive capabilities and application programs, leading to the formation of a robotics cloud marketplace.
Collaborative Robot. By 2018, 30 percent of all new robotic deployments will be smart collaborative robots that operate three times faster than today's robots and are safe for work around humans.
Intelligent RoboNet. By 2020, 40 percent of commercial robots will become connected to a mesh of shared intelligence, resulting in a 200 percent improvement in overall robotic operational efficiency.
Growth Outside Factory. By 2019, 35 percent of leading organizations in logistics, health, utilities and resources will explore the use of robots to automate operations.
Robotics for Ecommerce. By 2018, 45 percent of the 200 leading global ecommerce and omni-channel commerce companies will deploy robotics systems in their order fulfillment warehousing and delivery operations.
Companies in this article