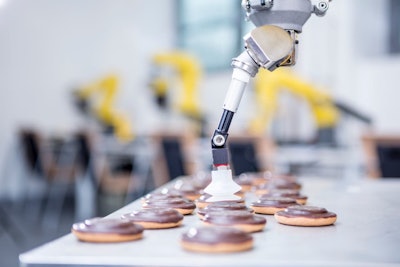 There are many "dirty jobs" in manufacturing, and there are some jobs that are just plain dull, like the monotonous pick and pack operations. In fact, there's a certain packaging line at a food manufacturer where variety packs of products and split cases have to be handled by hand after the labeling. The coordination of machine operators with packers is a challenge.
"It's one of those things where people say 'please don't put me on that line'," says a c-level executive at the company. "So we are finding a way to robotize those sections."
The value of robots as part of an automation strategy was a key area of conversation at the 2019 Top to Top Summit this week in Ponte Vedra Beach, Florida The exclusive event, now in its 14th year and produced by PMMI, The Association for Packaging and Processing, brings together CPG and OEM executives to engage with a level of confidentiality that fosters transparency among the manufacturing community, which can lead to innovation and competitive advantage.
During a panel discussion followed by smaller roundtable dialogue, attendees weighed the pros and cons of robot deployments. While there are many application areas identified where collaborative robots and autonomous mobile robots make sense, there are also obstacles to adoption, the group said. Specifically, the maturity of the supply chain to handle automation, return on investment (ROI), breaking down internal organizational silos and sanitation related issues. There are also less obvious problems, such as space—production lines are built for humans, not robots. And, integration.
"There are a lot of providers out there for end of arm tooling, there are a lot of providers for the arm and for vision, but the challenge is getting all of those to work well together," says an engineer for a health and home care products company. "We had to build all of that expertise internally. We built a team and a lab and we gave them the space and the resources to start somewhere to figure out how to make all of this work."
Also, introducing robots into the environment requires bringing the safety department up to speed on codes around ANSI and ISO and getting them to buy off on what manufacturing is trying to do with a robot on the floor. It's a new way of thinking which requires working closely with safety, engineering, maintenance and training departments.
To that end, training is a big concern when introducing robots into the mix. "We have to bring a whole group of operators and maintenance personnel up to speed to operate this equipment 24 hours, seven days a week," says the food executive.
To overcome training issues, many CPGs rely on OEMs and technology suppliers to do remote monitoring, which shifts the responsibility. "We are all struggling with the level of capabilities on the packaging line from turnover to the confidence to walk up to a robot and make changes, so we are trying to enhance our training programs for the customer," says a director at an automation technology supplier.
We're Talking About Jobs Here
While the executives at Top to Top understand the sensitivity around robots replacing people, they emphasized that it's not what's happening. The panelists—all of which are using robots in production—say it's not about swapping in a machine in place of a person, but rather leveraging technology to make a better working environment.
"We are building a skillset into people there that is creating more value for them," says the CPG engineer. "Yesterday, one person was packing a box. Tomorrow, one person will be managing multiple lines with robots on them. We are building a skillset for that person vs. having a non-value added service at the end of the line."
Gone are the dirty, dull and dangerous jobs.
"We [presented] it as a redeployment, there were no layoffs as a result of robotics," the food executive says. "This will allow us to run one or two more lines every day because robots will take care of the work that people don't want, and they'll be able to do the work they like to do. It gives more space for someone to become not only a machine operator but a robotics machine operator…As we move forward it will become another spot where they can gain some knowledge and skill and they get paid for it. We pay for knowledge."