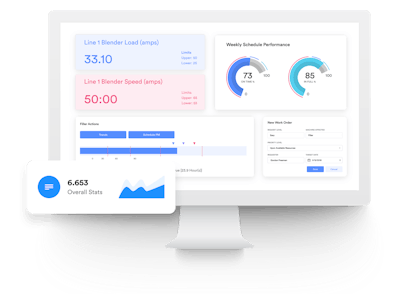 Parsec
Over the past 12-15 years, the food and beverage industry has embraced the manufacturing execution system (MES) as a must-have—at least at some level—for the automated execution of orders, integrating from the enterprise resource planning (ERP) layer through to the plant floor to drive production efficiencies throughout, according to Jim Mansfield, senior manager for system integrator Matrix Technologies.
Matrix—founded more than 40 years ago in Toledo, Ohio, and now with about 300 employees in seven locations—is one of the larger system integrators and engineering firms in manufacturing. It works in a variety of industries, including food and beverage, consumer packaged goods, life sciences, automotive, and chemicals. Considered a technology-agnostic system integrator, Matrix has relationships with a wide array of software stack providers, including Rockwell Automation, Inductive Automation, Aveva, Siemens, GE, and others.
For the past few years, Matrix has been working with Parsec and its TrakSYS MES platform. Like Matrix, Parsec works in a wide range of manufacturing industries; Matrix is working with TrakSYS now on new opportunities in the specialty chemical sector. But the system integrator has also found that TrakSYS is particularly suited to the distillery business, where competition is tough, and margins are tight.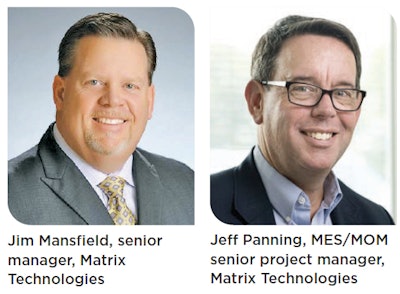 Here, Mansfield and Jeff Panning, MES/MOM senior project manager for Matrix Technologies, offer their insights on the benefits that MES and manufacturing operations management (MOM) systems can provide to food and beverage production, especially among distilleries.
PFW: When it comes to MES software, do you work exclusively with Parsec's TrakSYS platform?
Mansfield: We try to focus on the solution for the end user. We will go through a very detailed, front-end discovery process with our clients, so it's more about developing the solution and based on solving the immediate need, but also setting the client up for success five, 10, 15 years down the road.
At that point, it's between us and a client to collaboratively select what technology stack should be used in order to capitalize on specific market knowledge that the software stack provider might have. There are those instances where we go into a customer that they already have an embedded technology stack of Aveva, for instance, with the legacy Wonderware. If they've already got that and it's already set up, then it's done. It's imperative that we leverage that technology stack to keep costs down, so our clients are not purchasing licenses just to purchase licenses.
It would be the same thing with Inductive Automation or Rockwell Automation. There are really four or five that are on the top of our list that are representative as leaders in the Gartner Magic Quadrant for manufacturing execution systems.
PFW: Why would food and beverage manufacturers want to use an MES/MOM system in their operations?
Panning: One of the big benefits is visibility to your equipment performance—what your equipment is doing or not doing—so you can make investment decisions. One of our premier distilling company clients had a shrink wrap machine that they were having problems with the infeed on that machine. They went through a continuous improvement project to determine what the problem was and implement a solution. When it was time to make investments in other machines, they just didn't have the data.
---
---
Once they had TrakSYS put in place, they were able to measure downtimes—how much downtime they have and the types of downtime. They were able to measure performance, availability, and quality before they made the investment and updates on one of the machines, and then again afterwards. They were able to get some visibility on what the difference was, and it helped cost-justify investments for the rest of their machines.
I would say one of the biggest value points out there is that visibility—to help them make better decisions on where they're going to make investments. They have to make the best decisions on where they're going to get the most bang for their buck out of that investment. Without the software, they can do that, but the software gives them more real-time access to that data.
Mansfield: It's important to understand that any technology stack that you put in from an MES or MOM standpoint are simply enabling technologies. On their own, they do nothing. As we look to help solve an issue or provide a solution to one of our end user customers in the food and beverage industry, one of the reasons we start out with that discovery is to really understand the business case behind it to understand the why and which technology stacks should be deployed to solve that solution, and then follow through on deployment and change management, so as food and beverage customers begin to get specific data, they know when, where, and how to use that data.
PFW: What makes Parsec's TrakSYS different than other MES platforms?
Panning: One of the big advantages is the scalability, and the inclusion of everything in the package. Basically, you buy the TrakSYS package, and then based on what you're trying to accomplish, you can buy different types of licenses. But the functionality is all there. It's everything from OEE, to quality test forms to track and trace, and more. You get that all in the package, and then based on licenses, it allows you to scale the number of users, number of events, number of tasks that you're dealing with, and things like that. So it's really very scalable. Clients like that. They can start on a single line or a single piece of equipment. And as they see successes, they can justify additional investments.
It can be a very simple solution to deploy, or it can be a very complex solution, depending on your need. We've had different clients that want out-of-the-box TrakSYS who want to keep it as simple as possible. They can't do as much, but it's faster to deploy and easier to maintain. We've also had clients that have certain standards, that want custom calculations, and very specific ways to do calculations for OEE. And it does support that as well. It supports a lot of custom programming, custom screens, and things like that.
The final piece is just working with Parsec. They offer everything from training to companies like Matrix or the client. They are more than willing to hop on calls and help with the solution upfront, and they have a great technical team that helps with any questions along the way.
One more advantage is the platforms on which TrakSYS can run. It can run everything from a server at a plant to a corporate-wide server to a public cloud or private cloud. And it can basically run everything from a desktop computer to a laptop to a tablet to a smartphone. It's very flexible as far as its functionality on all those devices.
Mansfield: I want to speak briefly to the concept of the multi-site rollout. For those companies that are looking to take five or six sites and make sure they look, taste, feel, smell like the previous site they've had such success with, that's another strength within the TrakSYS solution set. Jeff spoke to the extensibility and the scalability. But when we finish with preliminary rollouts and we're able to start the next plant, we're already 50, 60, 70% done with the application, based on this huge, strong library of codes that we've developed. This practice provides speed to market and that is a huge differentiator.
---
---
PFW: What makes TrakSYS a particularly good fit for the distillery market?
Mansfield: The distillery industry is very highly regulated. And very competitive. I challenge you to go down into the Bourbon Trail—you can pretty much go from one distillery to another and hit a good 300-yard drive and hit the next. So competition is tight and margins are extremely slim.
Our distillery partners also have a real focus on resiliency, asset reliability, the energy management side of things, and understanding the power of, for instance, water reuse and the impacts of burner management. Think of energy as an ingredient. These are all things that Parsec's TrakSYS does extremely well.
Distilleries are looking for the best solutions out there that allow them to keep margins from eroding over time. Market erosion is huge in that industry. Even from a simple marketing standpoint, and a customer visualization: As they go through tours, being able to explain the technology and how everything's connected in the plant, and how important that sustainability and energy is in their operations, that is a huge driver in the distillery market today.
PFW: I would think there might be a lot of clients in the food and beverage industry that would be interested in how their energy is being used.
Mansfield: Absolutely. We have clients out there that have corporate edicts in place around a net zero carbon footprint in the next 10, 20, or 30 years. The whole concept of renewable energy and distributed energy resources can be combined, maybe a little bit differently from site to site, in order to get them to the point where they're generating energy to run their plants. There's a bunch of different distributed energy resources that are available in the food and beverage market that may not be available in other markets.
With a unified platform like TrakSYS, you have one platform that can reach out into different devices and subsystems, and have that single layer of data that provides one version of the truth in the plant. At the end of the day, you can't positively change what you're not measuring and deeply understanding the impact of one area to another area.
PFW: What other ways are your customers having success with TrakSYS technology?
Mansfield: Utilizing data sets is another big focus. There are so many different pieces of equipment in any given food and beverage plant that can be used in condition-based monitoring. Being able to move a company from a traditional rounds-based maintenance program to predictive, where you're able to replace that motor that is trending out of specification before it fails. Simply change it during the next planned shutdown or something to that effect. So you're beginning to remove unplanned downtime events.
Also, TrakSYS has the ability of the track, trace, and genealogy—from raw goods coming into the door, all the way through the production environment and even as the product is shipped out to the food and beverage customers. Track and trace is growing and extending, so it's an area that our clients want to understand. If they do happen to have a recall or if something happens from an agricultural standpoint to some of their ingredients, they now have the ability to go back and understand what that looks like, and why. Again, root cause analysis for the entire supply chain.
Panning: I recently had a conversation with a distilling client that was ready to take TrakSYS from the packaging area and put it into the distillation area. They're really interested in measuring variances in the process—things like temperature, whether the temperature is falling outside a certain range as they're going through that process, specific gravity, and things like that. It's going to give them better, more real-time data about those various factors. It's going to help them improve their quality, improve the throughput, reduce resources to make the product.
You can look at a trend over time to see how you've done, make improvements on a piece of equipment or a process or up all the way to real-time alerts that pop up for an operator saying, 'Hey, your temperature's above what it should be.' Or if it gets to a certain point, even email notifications or text notifications out to operations managers, other people outside to let them know what's going on as well. It's really a good way to enable faster decision-making and better identification of issues as they occur and looking at them over time as well.
Another one is around quality, and replacing manual forms that a client is using. Our distillery client is doing this now. They go through and do different quality checks on the production process, and currently they have a piece of paper, then they put the data into Excel, or, in some cases, they're putting it directly into Excel. But then they have to consolidate that into a report. It's just a lot of manual work to get that to a point where a plant manager or operations manager can look to see how their quality looks.
Whereas on an automated form within TrakSYS, they can put it in directly, and as soon as it's in there, they can run reports off that and other data.
Mansfield: Getting rid of paper and moving toward the automated processes is what I like to refer to as true workforce enablement—any of these technology stacks that are implemented on a plant floor that help an operator or a line supervisor or inventory delivery, logistics personnel. If they can do their job, first and foremost, safer, and also be able to do it faster, i.e. more efficient, more mistake-proof, removing the ability for an operator to make a mistake based on automation and, and even moving into collaborative robotic systems and artificial intelligence and having the enablement of all these technologies, it all wraps around enabling your workforce.
PFW: What advice can you offer manufacturers implementing MES/MOM?
Mansfield: MES and MOM, IIoT, I4.0, pick your acronym, pick your flavor—they're all journeys. And it is so inherently important that, specifically in the food and beverage industry, you slow down to speed up, take the time to find a partner, a software provider and systems integrator that understands what it means to go through a deep-level discovery before you go out and start looking at technology stacks, and before you start trying to just go after a specific piece of functionality.
Somebody calls me up and says, 'Jim, I want you to come in and look at OEE.' And you go in and realize that their network architecture backbone is just simply not there to support it, so you've got to back up to that point. And they're not thinking around the whole concept of cybersecurity. Food and beverage is so vulnerable in so many areas around cybersecurity. Bad actors having the ability to look at where could they most impact the United States, food and beverage is at the top of those lists.
So it's making sure that they take the time to pick partners, software providers, and systems integrators that have a strong understanding of the cybersecurity side of the business and what it means to be able to do all the neat things that MES, MOM, IIoT, and I4.0 systems do, but do it in a very secure manner.
Panning: It truly is a journey. I think the projects I've seen that have been most successful, are ones where the client is really looking at it as a journey—where installing TrakSYS and getting it up and running is really step one. After that is incorporating it into their continuous improvement processes and programs and things like that, really leveraging TrakSYS as the tool to provide them the data they need to make better investment decisions and then make improvements on the process. It's an iterative process, moving from one improvement to another. But along the way, it's making operational improvements to the business on an ongoing basis, which helps them with their bottom line.
Matrix Technologies is a certified member of the Control System Integrators Association (CSIA). For more, visit the company profile on the Industrial Automation Exchange.
Companies in this article