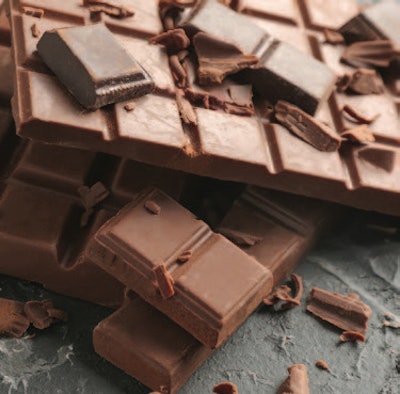 According to "2019 Trends and Advances in Food Packaging and Processing," a report by PMMI Business Intelligence, candy and confectionery holds a 5.1% share of the nine food categories, with the number of establishments decreasing to 1,942 between 2014 to 2017 (a CAGR of -0.2%), though the number of employees increased to 83,927 in the same period, at a CAGR of 7.5%.
Candy/confectionery product packaging trends include a growing demand for new, unique flavors and sensations, and smaller sized packaging and zip closures. There is a demand for clear paneled packaging machinery, and more use of claims such as natural, sustainable and free trade.
Of a market that has shown declining growth, one Packaging Engineer at a confectionery company said, "Keeping profitable as ingredient costs increase is our drive in the year ahead."
Candy and Confectionery Product Processing Trends
• Premium chocolate with fruits or nuts saw double-digit sales growing in recent years – consumers perceive it as healthier.
• Market growth hampered by rising cocoa prices.
• Industry performance expected to improve with new products containing less sugar or alternatives such as coconut palm sugar or stevia.
• Seasonal candy claims about one-fourth of annual market sales.
On the consumer end, gum is expected to see continued growth globally. In the U.S. gum grew 2% from 2018 to 2019, accounting for 11% of the total retail candy market.
Chocolate remains the largest confectionery category in the U.S., and portable packaging options for convenience, and the additions of healthful ingredients such as nuts and fruit have helped maintain the top category position.
Source: PMMI Business Intelligence "2019 Trends and Advances in Food Packaging and Processing"
Download the FREE Executive Summary below, or PMMI Members can download the entire report here.
Make plans to visit PACK EXPO International in Chicago, November 8-11, to see on-trend food processing and packaging machinery and materials.