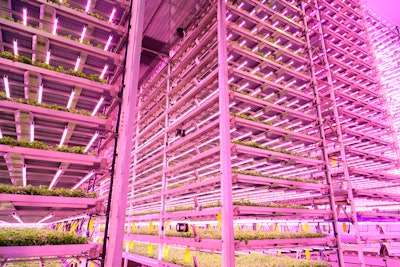 Getty
The following is a transcript of the panel discussion, edited for length:
Moderator Alan Reed, Executive Director, Chicagoland Food & Beverage Network:
What are the changes you believe that we'll see in manufacturing facilities in the future?
Stuart Shepherd, Chief Strategy Officer, HowToRobot and Gain & Co.:
In existing facilities, I think the big impact is going to be modularity of the equipment. Many of the pieces of equipment you see here on the floor [at PACK EXPO] can be dropped in and connected on your floor. And if it's not in the right place today, it can be moved. Because in the days of very high-mix low-volume manufacturing, agility is the key to success. And being able to reconfigure a plant is crucial.
Mark Adelmann, Director of Business Development, EN Automation:
Broadly speaking, food and beverage manufacturing facilities in the future would be smart factories. The trend for modernization and digitization were already underway before COVID, but that has really accelerated the need for more highly automated food manufacturing facilities.
And a big part of that is data. The data's a life plug of a smart factory. And so, integration of that data, getting the data to where it needs to be is key. If it's done correctly, you'll end up with an agile facility that can adjust to its operational needs and the demands of its customers as well.
Patrick Hanlon, Director of Business Incentives Consulting, Clifton Larson Allen, LLP:
I'm going to talk a little bit about apprenticeships and workforce development. Those are programs that we're going to need to implement in the future in order to recruit and get those people to stay.
Apprenticeship programs are becoming a much larger component of small manufacturing. It used to be something that was just seen in large manufacturers, but now small manufacturers can very easily access Department of Labor programs that then come with guidance, grants, money, and things like that to support those programs and help build a workforce that stays longer.
Victoria Chatman-Galloway, Global Head & VP Packaging Center for Expertise, Olam Food Ingredients:
Another thing that we are looking to do is print on demand. We need to look at labeling and how quickly we can change over and not take 2, 3, 4 hours for changeover. Because again, not having enough staff, having things that are automated, and changeover being quick, is very important.
The last thing that I would say is sustainability obviously is crucial in today's age, from a material standpoint and how it runs on a line, but also what we're doing in our manufacturing facilities. Are we reducing our CO2 levels? Are we close to our community? Are we integrating in the community and bringing the community on board with what we're doing?
Alan Reed:
Regarding sustainability, what needs to happen inside the plant of the future to really deliver on some of the goals that folks have within ESG or within corporate goals?
Victoria Chatman-Galloway:
There's so much going on with sustainability, it almost changes on a daily basis. And the requirements with specific country entities, state entities, it is just a moving target. But one of the things that we do know is that we need to look at materials that are recyclable or recycled. And those materials run very differently than your standard materials in operations. We need to make sure that we're not losing efficiency when we're going to a monolayer material…We've got to meet the legislation. We've got to meet the need, and it's important for the world for us to do that. But we also have to look at the impact on the business.
Charles Weinberg, CEO, MSI Express:
Simply put, sustainability is good business. And for people that say it isn't and it's this thing that needs to be mandated by government, I suggest that you really look at your factories and figure out how you can turn things that aren't sustainable into profitability for your company.
How do we take what we're throwing away and make sure that a hundred percent of it gets recycled? How do we take waste and get it out of our system? Because every piece of product that goes out the door versus going into the garbage is a help to sustainability. And it's a good help to business. So, reducing scrap and waste by decreasing the number of changeovers you do, by making changeovers faster, by reducing the amount of packaging that we have to change and transfer, all those things matter.
Stuart Shepherd:
Take advantage of changing your packaging to make it more suitable for automation at the same time. If you're going to change it, kill two birds with one stone.
Matthew Botos, CEO, ConnectFood:
I find with the small-medium sized companies though, some of the changes in packaging really hurt them because of the cost. I think education to what the packaging actually is…instead of somebody that's doing thousands of units at a time instead of hundreds of thousands of units, that really is a big deal in the food industry.
Alan Reed:
Let's talk about supply chains for just a moment. We're moving from just in time manufacturing to just in case manufacturing. How will the manufacturing facility of the future help to manage some of these supply chain challenges?
Patrick Hanlon:
One of the things that we're seeing across all industries is sourcing. So, if you're sourcing globally, you're now going to have another source that's domestic. It might cost more, but you've got a backup for when things go wrong, which, as we all know, happened recently. And people up until then got so comfortable with just a consistent supply chain they really didn't know where everything was coming from and what the actual lead time was until it was too late, and they had this extended lead time they couldn't produce.
Matthew Botos:
So, doing recalls for companies like Amazon…when these products get out in the market, we're going to have to find technology to go with it. Where do we find those products? It used to be an easy tracking system. So now, we're going to have to figure out different ways, whether it's RFIDs or barcodes or something along that lines.
Charles Weinberg:
One of the other pieces in the supply chain is data integration all the way up the supply chain. So, getting forecasts from our customers that go into our systems through Amazon web server databases, through Nulogy, through different technologies, is continuing to happen more and more. The challenge that you face is consistency of naming conventions. Data doesn't transfer well if the two systems don't know exactly what those data fields are to transfer. And that's a big problem that we face with our customers. So, working in integrated ways between our systems so that we can get the production forecast through the supply chain, order materials, the ingredients, the packaging materials, understand when we can run that production and then where it has to go, and then being able to manage all that from a recall perspective, is a huge effort.
Alan Reed:
Let's move to integrated control systems. Mark, can you start us off with what we can expect in the future?
Mark Adelmann:
Integration of data and systems is going to be essential to be able to meet the supply chain issues, to meet the sustainability requirements, and to have more flexibility. And the key to this is making data available at all levels, of all parts of the organization so they can leverage that information to operate more efficiently.
Alan Reed:
Charles, can you talk a little bit about flexible manufacturing, what that means to you, and what you think the future of it is?
Charles Weinberg:
Contract manufacturers, by definition, are in flexibility. I mean, we change all the time. How do you create the ability of these lines to be flexible and to constantly change over very quickly and effectively? It could be the ability of quick changeovers on machines. It's moving one piece of equipment out and moving another piece of equipment in very quickly. I can reconfigure my line very quickly depending upon what the next product is, or the next project is.
Victoria Chatman-Galloway:
In our particular situation, we have over a hundred of our own manufacturing facilities globally, but amazingly enough, they don't meet our needs all the time. So, we need to have that flexibility with going to contract manufacturers who can make these changes on the fly so that we can meet the needs of our customers.
Charles Weinberg:
You have to have systems that are flexible as well. So, when we go to start up a new product for one of our CPG customers, it's not just a machinery issue. It's a systems issue as well.
Alan Reed:
Patrick, can you weigh in on how tax and government incentives are likely to change the way the manufacturing facility of the future looks?
Patrick Hanlon:
I think the incentives and taxes try and encourage growth in terms of automation, things like that, but they're late to the game. There's maybe a half dozen states out there that have automation-based or automation-oriented tax credits at this point. And some of them aren't that big. Indiana might have one of the biggest ones, and it's a matching grant up to $200,000. So, if you buy a $400,000 piece of machinery, they'll reimburse you for half of that. That's a great program.
Minnesota, on the other side, has some training grants that they'll give you to retrain employees for it. There's tax credits against your income tax withholdings on the east coast. They're not uniform. They're not out there very much. On the other side, governments are trying to encourage good behavior, trying to encourage green initiatives. Coming down from the federal side of things right now, the IRA bill extended a lot of solar and different energy efficiency initiatives, as well as expanding others in terms of usage and really, monetarily for the companies as well.
On top of that, though, there's still the usual state programs where if you are making investments in persons, and hiring, and making investments in training, making capital investments, they're increasing the value of those programs for companies. They're listening to you in terms of, "We can't really use tax credits. We're operating in losses, so we can't use tax credits. But we can use withholding tax benefits or cash grants." So, states and local governments are listening and providing those types of incentives to encourage you to grow and expand.
And they're really trying to attract you to the rural areas right now. That's where a lot of employees have moved, a lot of residences have moved because of the pandemic. People were looking for that quality of life, that lower cost of living. So, everything is spread out more, which not only affects supply chain, but it affects where your employees are based. And it affects that, "Is it worth it to go to work?"
Stuart Shepherd:
Related to that, really common in the capital equipment end of the business, there's a nice little code called Section 179, which gives you a chance to accelerate the depreciation of your equipment depending on your financial situation. We're not a tax expert, but we can tell you there's lots of equipment purchased in the fourth quarter of the year based on what your accountant tells you you can spend and get that written down quickly and get it deployed and get out of pain as fast as you can.
Patrick Hanlon:
That's huge at the federal level. And then if you can get that tax abated on the local level, you can really avoid some taxes on that equipment.
Alan Reed:
How are consumer trends going to change what the plant or the manufacturing facility of the future looks like?
Victoria Chatman-Galloway:
As I said, consumer trends are ever-changing. That means different ingredients, different processes. So, we have to, from a manufacturing standpoint, be able to make those changes quickly, be able to understand what those changes are. Those trends ebb and flow, so we do a lot of market analysis trending and looking at consumer trends and consumer research.
We also have to keep in mind what consumers will pay. We could have a trend for plant-based, but plant-based may be significantly more expensive than the alternative. Consumers may say, "We want plant-based." But when it really comes to paying for plant-based or paying for keto or paying for some of these trends, we really have to balance that. And it's not just simply based on cost. But again, we are here to make sure that we provide the best for our customers and consumers, but we have to balance it.
Charles Weinberg:
In addition to that, clean labels are a big deal. People want to reduce the number of ingredients, make sure you have fresh ingredients and get rid of preservatives and a lot of chemicals. So, making sure that the packaging lines can be cleaned and sanitized quickly, effectively, and tested. I know a lot of the OEMs and PMIs have spent a lot of time in gathering information from their base of machinery users in terms of how important that is. And they've spent a lot of time making machines that are a lot easier to clean, sanitize, and changeover.
Stuart Shepherd:
A key to think about when you're thinking about sustainability and different ways of producing food and trying to keep it organic is think in terms of how you can intersect that with an automation strategy. We're working with a vertical grower of heads of lettuce. From planting the seed to a lettuce head that's fully produced is 37 days if you optimize the lighting and everything else. And by not growing it in a field but growing it in a vertical farm, you can automate the picking and planting, and all the things are done because you have a robot in an environment it can work in.
So there's ways to completely change the approach, but it starts with the needs analysis. It starts with working with people that understand automation and getting out of the box, and completely changing how you think about growing food. I'll tell you, we're growing tomatoes and fresh vegetables completely different than people ever thought before, in buildings that are 60 to 70 feet tall rather than fields that are acres long. And it's much easier and much more efficient, but it takes a total change of the approach, and it involves automation.
Alan Reed:
What advice do you have for food manufacturers that want to get started in preparing for the future now?
Matthew Botos:
My next company's going to be called 'Food Safety Psychologist.' Because really, they get more questions about training and education, and people don't really understand how to use technology and train their employees for what they're going to be doing in the future.
Victoria Chatman-Galloway:
Understand what the trends are, know what your consumers are looking for, know what they're doing. We really have to think about what's happening in the future. Five years ago, no one talked about keto, no one talked about plant-based, and now that's the trend. We need to really understand what's happening, not today, but what's happening in 3, 4, 5 years.
Patrick Hanlon:
Really dig into what's out there at the federal level in terms of assistance for starting your business. Apprenticeship programs and tax credits are out there. They follow a lot of the trends that are going on, as well as the government trying to push people in the right direction in terms of environmental issues. I think there's just a wealth of opportunity there that's hard to tap into because the programs are very varied and very convoluted and hard to find.
Charles Weinberg:
For us, it's listen to our customers, but question them back. "Are you really sure that's the direction you want to go? Have you thought about this opportunity? Have you thought about this? What we're seeing in the marketplace is X, have you thought about this direction?" So, listen to what their needs are, but question back and do that in ways that support sustainability, that support flexibility and agility, and that don't lock them into a direction that they can't get out of very quickly.
Mark Adelmann:
Start developing that plan for modernizing and upgrading now. It can sound kind of daunting to get from here to there, but it's important to remember it doesn't all have to happen at once. In fact, most of the time, when we do upgrades, they're incremental. You find the problem spot, you find the issues that you have, and you build on that, and you make it scalable. And don't be afraid to change it either because it will change.
Stuart Shepherd:
I completely agree. The key is start with small steps. The crawl, walk, run approach to getting involved in this is important. Start now. Don't wait. Because technologies are there. You just may not realize they're there. Seek professional advice to find out what's going on and get started.