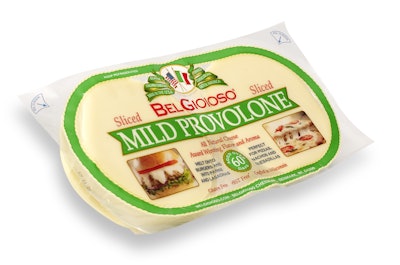 In a world where many cost-conscious consumers buy food in bulk, the ability to confidently reclose packages to keep food fresh is critical to prevent food waste. A new packaging solution from Bemis Co. using DuPont materials is one recent, award-winning packaging solution that can contribute to reducing some of the 1.3 million tons of food that is lost or wasted around the world annually.
Bemis Co. recently developed the BelGioioso Mild Provolone packaging solution using DuPont Selar PA and DuPont Bynel in a resealable package. The package is made up of two individually sealed compartments. This transformational package provides consumer convenience by allowing the user to easily peel and reseal the package 20 times or more with fingertip pressure. The package is also perforated, which allows the consumer to easily separate the two compartments without using a knife or scissors.
Bemis' SmartTack EZ Peel Reseal technology allows the individual cheese compartments to be sealed separately, preserving the freshness of the unused portion until opening, and significantly reducing waste—all while creating differentiation at the club store level for BelGioioso Cheese.
"High-performance materials add value to packaging in many ways, but especially in protecting food and keeping food fresher and more appealing longer," says Yasmin Siddiqi, global packaging relationship manager, DuPont Packaging and Industrial Polymers. "As the packaging industry converges on this global issue, more and more solutions like this resealable system will be required."
DuPont Selar PA was selected for improved formability and puncture resistance and Bynel was selected for its performance as a "tie layer" to help bond dissimilar materials. Bemis won a Silver Award in the 2015 DuPont Awards for Packaging Innovation, demonstrating excellence in the Enhanced User Experience criteria.
Judges for the 27th DuPont Awards for Packaging Innovation said this entry delivers on its promise to provide convenience, value, and freshness. "BelGioioso Club Store package with Bemis SmartTack EZ Peel Reseal technology is a real breakthrough in terms of packaging science and innovation," says Jane Skelton, head of Print and Packaging, Sainsbury, U.K., speaking as a representative of the 2015 DuPont Awards judging panel. "These club-sized, dual packages can be easily separated for storage and use. And, due to the resealable technology, the cheese stays fresh after multiple openings, avoiding food waste."
Companies in this article