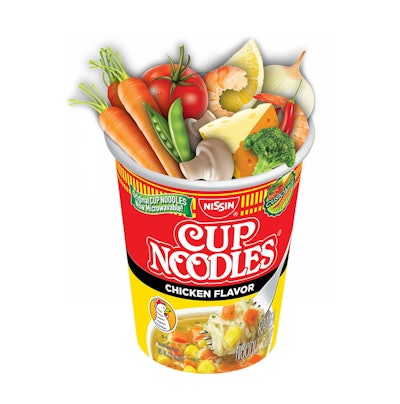 Nissin Foods (USA) Co, Inc., the company that created instant ramen and the first Cup Noodles, has launched its newest Cup Noodles product that allows consumers to microwave their meal in 2½ minutes and features a redesigned package with extra room that also allows them to "customize their cup" by adding additional healthy ingredients.
The new Nissin Cup Noodles moves from a foam cup to a microwave-friendly package that features less overall exterior material. This combination of new product design and packaging reduction has resulted in a more sustainable cup that delivers a 20% reduction in overall carbon emissions.
"As people increasingly look for ways to create their own healthier meal options, Nissin has launched the new Cup Noodles to help meet their customizable demands," says Linda Chung, Vice President, Corporate Communications, Nissin Foods USA. "By changing our packaging, we've made enjoying the same noodles our consumers love even easier by putting it in a new and improved cup that is now microwavable, customizable, and more sustainable."
The new Nissin Cup Noodles will initially be available in Chicken, Beef, and Hearty Chicken flavors, and can be found at select Walmart stores across the country. The products will become more widely available at leading retailers throughout the year.