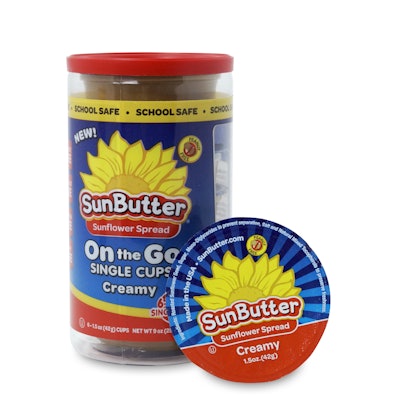 Red River Commodities of Fargo, ND, has introduced its SunButter sunflower spread in On the Go Single Cups, a new, single-serve canister pack being sold exclusively at Target stores nationwide.Each package contains six individual, easy-to-open, 1.5-oz cups of the SunButter Creamy variety, which offers an alternative to peanut butter.
The 1.5-oz size is recommended as a healthy snack, allowing consumers to dip foods such as fresh fruit, vegetables, pretzels, or crackers into the cup.It can also be used for making a sandwich, or spreading on toast or an English muffin.Since the individual cups do not need to be refrigerated, they can be added to lunchboxes, or can be kept on hand at home, in the car, or at work, says Red River.
Says Justin LaGosh, Sales & Marketing Manager for SunButter, "We have heard from our users that they would love to have a convenient, single-serve product that they could send with kids to school or other out-of-home activities to use for healthy snacking.The 1.5-ounce cup is an ideal size, and each cup provides seven grams of protein, and four grams of fiber.We know that half of the schools in the U.S. prohibit or restrict peanuts, so SunButter On the Go Single Cups are perfect to send to school because they are 'School Safe,' being peanut and tree nut free."
Food allergy blogger Keeley McGuire says, "When you're a family with food allergies and dietary restrictions, packaging meals and snacks is necessary whenever you leave home.Whether it be a trip to the mall or a flight across [the] country, you can never guarantee safe foods will be available.Now, traveling and last-minute needs have been made easier thanks to the new SunButter On the Go Single Cups."