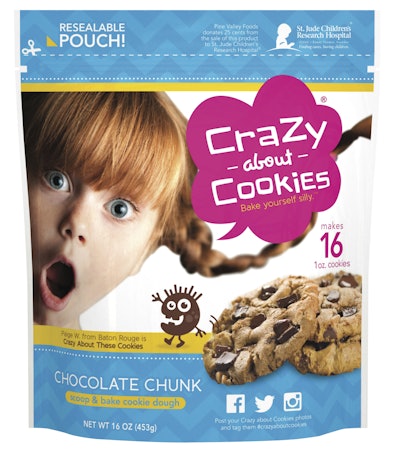 Now, from Pine Valley Foods—"likely one of the largest food manufacturers you've never head of," according to its CEO Joe Giildenzopf—comes the new Crazy About Cookies cookie dough line in a resealable stand-up pouch.
Pine Valley Foods, located in West Monroe, LA, has been in business since 1998 serving the product fundraising industry. The company has the capacity to produce in excess of 30 million pounds of cookie dough per year. After 17 years of success in alternative markets, Giildenzopf says it was time for Pine Valley Foods to take its flagship product, Crazy About Cookies, into the retail space.
From the beginning, Giildenzopf says the company knew it wanted to use flexible, resealable packaging, for a number of reasons. Among them, flexible packaging allows for high-resolution graphics and a low cube in storage (versus rigid containers), and resealability lets the consumer use as little product as they wish and then reseal the bag. "Our packaging is innovative and wonderfully disruptive in a category that has become complacent," he says.
The package, converted by Robbie, is a multilayer adhesive-laminated pouch flexo-printed in eight colors using Expanded Gamut seven-color process technology that eliminates the need for spot colors. According to Robbie, the process not only adds significantly to press efficiency, but it also "provide the highest flexographic print quality available." The reclosure technology is a proprietary press-to-close-style zipper developed by Robbie.
Crazy About Cookies is an all-natural product aimed at kids, as evidenced by the colorful, kid-centric package graphics. Designed by Tom Newmaster of William Fox Munroe, Inc., graphics for the line's seven cookie dough varieties include bright blocks of color and a big, bold image of a different child for each flavor, posing with silly, playful expressions. Photos of the baked cookies and a speech bubble with the product name are also included on the front panel. On the top of the pouch, copy advises consumers that Pine Valley will donate $0.25 per package sold to St. Jude Children's Hospital.
"We have a product that is all-natural, comes in a new package type, is extremely kid-friendly, and helps a cause dear to our hearts," says Giildenzopf. "It just makes sense to bring this product to the masses through retail."
At presstime, Pine Valley Foods was meeting with retailers to secure space. Each 16-oz pouch of cookie dough carries a suggested retail price of $3.19.
Companies in this article