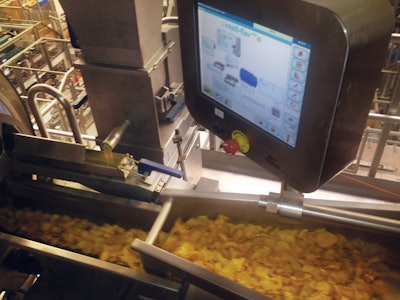 Pata Snack Foods, Mantua, Italy, produces and packages a broad range of high-quality potato chips, popcorn, and extruded snacks. Because it packages not only its own brands but also those of its private label customers, the company recently found itself in need of a flexible, reliable bag packaging system that would accommodate a range of film packaging structures, operate at high speeds, and minimize product and packaging waste. Having evaluated various options, Pata determined that the robag® 3ci vertical form/fill/seal bagging equipment from tna was the best fit for its operations.
"One of the main things that makes tna stand out is the time and patience they have invested to develop a close working relationship with us," says Pata Plant Manager Massimo Piona. "That commitment confirmed our decision to purchase their equipment."
The tna robag 3ci vf/f/s bagging system is compact, easy to clean, and is designed with flexibility and high speeds (up to 100 bags/min) in mind. Rotary sealing jaws ensure seal integrity and prevent bag bursting, so product waste is minimized. The system was delivered to Pata integrated with metal detection equipment and tna intelli-weigh® 0314S omega multi-head, high-speed bucket scales, capable of up to 200 high-accuracy weighs/minute. These features enhance product quality and hygiene and reduce product loss.
The system also is integrated with modular tna intelli-flav® seasoning measuring/dispensing technology. Proper and precise seasoning is a key challenge for snack manufacturers, especially those who are packaging their own brands and contract customer brands. Pata needed a seasoning system that could accommodate a broad product range and ensure even snack chip coverage and precise diffusion of the flavorings.
The computer-controlled tna intelli-flav meets Pata's requirements. The variable mass seasoning system with dynamic vibratory weighing enables proportionately accurate application of flavorings to snack surfaces. Pata's Piona notes, "The new seasoning system from tna has given us more control over the seasoning process, delivering consistent results across our entire product range."
With fragile items such as snack chips, turbulent conveyor lines can cause product breakage/waste. So gentle, smooth-flowing conveyors are crucial. In addition, these conveyors must be easy to clean and maintain. Snack crumbs can accumulate in hard-to-reach crevices, making conveyor sanitation and maintenance time-consuming and labor-intensive. To address these issues, Pata uses tna roflo™ conveyors. These vibratory conveyors gently distribute snack chips along the production line, and dimpled conveyor belt surfaces are engineered to allow the chips to settle in and avoid slide-off or damage.
Piona adds, "These conveyors are really easy to clean. This saves us a lot of time, and we are noticing the impact this has on our production efficiencies."
Companies in this article
Videos from TNA North America Inc.