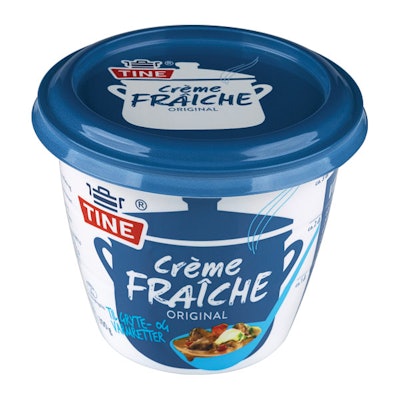 TINE SA, in operation for 133 years, is Norway's biggest producer of dairy products. Established as a cooperative of 15,000 Norwegian milk farmers who are also shareholders, TINE SA processes 1.4 billion L of cow's milk and around 19 million L of goat's milk every year. Strict controls and state-of-the-art technology are fundamental for the company to guarantee the highest quality. The portfolio encompasses around 200 different products, such as yoghurt, sour cream, and various types of cheese, which are sold worldwide under the TINE brand.
As a result of growing production requirements, TINE SA recently found itself in need of new cup filling equipment. Process Engineer Havard Lamberg explains.
"We had taken over the production of another dairy factory which had closed, and we needed to achieve higher production volumes. We wanted to improve hygienic standards across the whole production process and also wanted to ensure the best possible cup sealing during the packaging process. It was equally important that the new cup filling machine could be easily integrated into the existing packaging line. The very narrow timeframe posed a significant challenge for us."
To implement this ambitious plan, TINE SA was looking for a reliable partner. The firm had already acquired several machines in the past from Ampack, a part of Bosch Packaging Technology, since 2012, and its relationship with Ampack was a very positive one. Even so,TINE SA decided to conduct an intensive selection process involving several providers. In the end, an Ampack machine was selected once again.
As packaging specialists offering high-quality and reliable systems, Ampack was able to fully meet TINE SA's requirements and work together with the dairy cooperative to develop a tailored line for filling milk products. The ability to flexibly meet the dairy production requirements was one of the reasons TINE SA opted to revisit this collaboration.
TINE SA´s new Ampack cup filling machine is an eight-lane inline machine that can fill pre-formed cups with various products, including yoghurts, viscous desserts, sour cream, and cottage cheese. It encompasses the following stations: cup placing, sterilizer, dosing device, lid station, sealing station, snap-on lid station, packer, and tray transport. With these different components, the system is perfectly suited to handle the TINE SA's extensive product range.
"Product quality is of the utmost importance," says Lamberg. "With the new Ampack packaging line from Bosch Packaging Technology, the quality has improved further. Our sour cream is now creamier and of even better quality than we could ever have hoped for. The customers therefore get exactly what they expect from us. Thanks to the new machine, we can process our dairy products much more efficiently and without neglecting the strict hygiene standards. The system's hygienic design has demonstrated to us that the construction has been well thought-out, resulting in an optimized cleaning process with minimal effort. This provides a firm basis and good initial position to bring fresh TINE SA products into the refrigerator."
Speed, flexibility combined
When purchasing a new machine, the ability to combine maximum productivity with a high level of flexibility was vital for TINE SA. Whereas the old machine could only process up to 12,000 cups/hr, the new packaging line is designed to handle 18,000 cups/hr. Several different cup formats, as well as different packaging materials, can also now be processed by the same machine. The larger reserve magazine for the packaging material is a further advantage, contributing to the high level of user-friendliness. Despite TINE SA seeing an increase in its production requirements, the effort required by the operating personnel remains about the same and the cup magazine only has to be re-filled every 12 to 18 minutes.
"When a company increases its production capacity, by implication this also usually results in a need for more operating personnel, which adds to personnel costs. This wasn't the case for us," explains Lamberg. "Since the layout of the new machine replicates the previous one, control and operation remain pretty much unchanged. Our employees were therefore able to work with the new Ampack technology without any problems." The high-performance system runs a two-shift operation for five days a week. With machine stops kept to a minimum, that means minimal downtime.
TINE SA was able to increase production in line with objectives – and without significant production losses during the installation phase. "We knew that we had a very tight deadline," explains Korbinian Tomschi, project leader for filling machines at Bosch Packaging Technology. "Bringing the machine into the dairy factory and positioning was a big challenge for us. The space available was very tight and we had to navigate accurately. Nevertheless, we succeeded by talking through the problem, and through constant two-way communication." Commissioning the inline machine was trouble-free, allowing efficient production to start after only two weeks.
The Ampack solution turned out to be an impressive combination of innovative technology and outstanding service. Lamberg was pleased with both installation and startup. "The positive partnership has accelerated the whole process significantly," he says. "We are delighted with the assistance and service, and that we could rely on professional support throughout the project, from start to finish."
Companies in this article