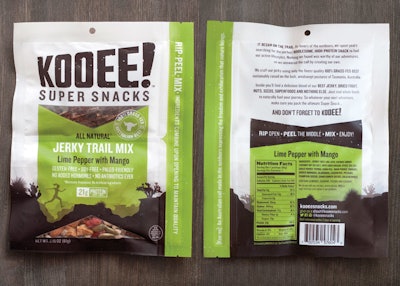 To accommodate its unique snack products, KOOEE! has created its patent-pending "RIP>PEEL>MIX" pouch, an innovative "double-compartment" pouch pack. One compartment contains grass-fed beef jerky, and the other contains a blend of dried fruits, raw nuts and seeds. Initially, the company is offering two flavors—Lime Pepper with Mango and Smoked Chipotle with Apple.
Through a successful campaign on the crowd-funding website Kickstarter.com, KOOEE! raised more than $17,000 to help facilitate the product launch in October 2014. These products are now available at www.kooeesnacks.com, and they can be found at retailer outlets such as The Fresh Market, Wegmans, Amazon, several independents, and health food stores in New York and the SF Bay area.
The fledgling company was founded in 2013, when the founders recognized the rapidly growing jerky industry (estimated to be $2.5 billion in 2015) was trending towards more healthful versions. CEO and co-founder Shaun Malligan notes, "We spent months developing our unique, patent-pending, double-compartment RIP>PEEL>MIX pouch packaging approach to keep the jerky separate from the trail mix, preventing product stickiness and maintaining freshness and flavor of all the components"
Because the packaging prevents moisture transferring between the two sets of ingredients, shelf life of this preservative-free product can be improved to 12 months. The preformed, recloseable zipper pouches are not gas-packed. The consumer-convenient, scored tear strip is positioned laterally on the pouch. To open, the consumer simply rips the scored tear strip, peels open the inner pouch seal divider that separates the jerky from the trail mix, and shakes to mix the product components together for snacking.
Malligan notes that the company filed a provisional package patent application in September 2014. Due to the fact that the patent is pending, he does not feel at liberty to disclose specific material structure or supplier details, though he points out that the package is produced with high-barrier material common to other jerky bags. The double pouches are heat-sealed by a co-packer, using Model FRS 1120W band sealing equipment sourced from the packaging systems distributor Sealer Sales Inc. This machine also is used to stamp each pack with a traceability code that indicates the exact location where the beef comes from.
Companies in this article