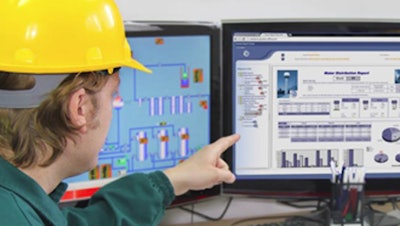 Ocean Data Systems, a provider of automated reporting and corporate dashboards for the industrial markets, this week announced that Red Lion Controls has joined its Dream Report Proven Partner program.
Red Lion's portfolio includes process control products, HMIs and panel meters, Ethernet switches and cellular M2M devices, and communication converters. Many of these products are involved in applications that require compliance and performance reports and dashboards—which is where Ocean Data Systems' Dream Report can help.
Dream Report collects and archives real-time information gathered from open or proprietary archives and databases. With 70 different drivers, the technology is able to grab information form multiple sources, perform calculations, format it, and deliver it via a secure web portal. Users can access archived reports, generate new reports, or quickly build web-based interactive dynamic dashboards through an intuitive interface.
There are two types of important reports in manufacturing: Reports you have to have to stay in business, which are compliance reports for the Food and Drug Administration (FDA) or Environmental Protection Agency (EPA), for example; And, then there are the performance reports, which focus on improving productivity and quality. Typically, companies have turned to business applications from SAP or Microsoft-- or even use Excel-- to generate these reports. But, Dream Report has been designed from the ground up for industrial automation.
While Dream Report is applicable to any industry, company officials say it is very important for pharmaceutical and biotech companies that must comply with the FDA's 21 CFR part 11 requirements, as well as the food and beverage industry which must adhere to other strict FDA regulations. Water/wastewater and energy industries are also in need of a comprehensive system for generating reports to the EPA.
"Anybody who has a SCADA system or historian should now be layering Dream Report on top because of the value it can deliver," says Roy Kok, vice president of sales and marketing at Ocean Data Systems.
Over the past several years, Ocean Data Systems has built relationships with OEMs, including Schneider Electric, which sells Dream Report for Wonderware, and GE Intelligent Platforms' which has Dream Report for Proficy. In addition to its OEMs, the company has created its Proven Partner program for companies that are not reselling the Dream Report software, but have tested the application and will deliver joint services and long-term support to customers.
Red Lion is the latest addition to the partner program, which means the systems have been tested to work seamlessly together, therefore, if one of Red Lion's customers needs compliance or performance reporting, the company will recommend they use Dream Report.
"Dream Report offers a wide variety of connectivity options including OPC standards and support for Modbus, which complements our broad range of industrial products," says Jeff Thornton, Red Lion's director of product management.
Companies in this article