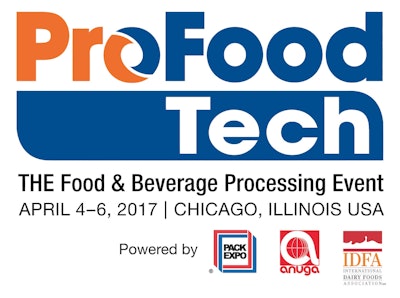 Three trade show leaders joined forces today to announce the launch of ProFood Tech, a new event that will focus on processing technologies serving the food and beverage industry. ProFood Tech will make its debut April 4-6, 2017, at McCormick Place, in Chicago, Ill.
The event is powered by three of the world's trade show leaders—PMMI, The Association for Packaging and Processing Technologies; Koelnmesse; and the International Dairy Foods Association (IDFA). PMMI is the owner and producer of the PACK EXPO portfolio of trade shows and represents North American manufacturers of equipment, components and materials for processing and packaging. Koelnmesse organizes world leading trade shows for the food and beverage industries as well as for the food and beverage processing industries, such as Anuga and Anuga Food Tec in Cologne, Germany. IDFA is North America's largest dairy association, representing more than 85 percent of all North American manufacturing of dairy products.
"In assessing the current trade show landscape, we saw there was a need for a dedicated event that brings buyers together with leading worldwide manufacturers in the food and beverage industry," says Charles D. Yuska, president and CEO, PMMI. "ProFood Tech provides a venue to share the latest innovations and crossover technologies from multiple vertical markets within the food and beverage industry and will be that one-stop shop featuring exhibits from both large companies that serve several customer segments and smaller niche companies with focus on more specific needs."
Exponential changes in technology are making it hard for food and beverage companies to keep up. ProFood Tech will provide a wide perspective on the food and beverage processing industry as a whole and feature cutting-edge solutions to the challenges the industry is facing every day on the plant floor.
More than a trade show, ProFood Tech provides both large and small suppliers the opportunity to build their businesses by breaking into new food and beverage markets, cementing their status as industry leaders and reaching a large group of customers at one event.
"In a close dialogue with leading technology suppliers from around the globe, we aim to create a market platform in the United States that is tailored to the requirements of domestic and foreign exhibitors and visitors," explains Gerald Böse, president and CEO of Koelnmesse. "Over a period of decades, Koelnmesse has established an excellent reputation worldwide as a trade show organizer, especially in the field of food products and food technology. Examples include the leading international trade fair Anuga, the world's biggest and most important trade show for the food industry, as well as related spin-offs around the world."
"Pro Food Tech," Böse adds, "marks a further logical step in Koelnmesse's strategy aimed at offering expert support to our customers in various target markets in our role as a global service provider."
With an expansive show floor and enhanced educational programming led by IDFA, ProFood Tech will attract high-level buyers from every food and beverage sector.
"The opportunities for new ideas and breakthrough solutions are amazing when executives from related businesses come together to discuss, review and experience the innovations, products and services available today," says Connie Tipton, president and CEO of IDFA. "IDFA is proud to partner with these trade show leaders and to continue our tradition of bringing industry suppliers, processors and manufacturers together so they can find profitable business solutions, discover new technologies and see the innovations that are abundant in our industry."
Industry leaders, including Delkor Systems, Inc. and Tetra Pak, are excited about the opportunities that ProFood Tech will offer.
"As a longtime member of both IDFA and PMMI, Delkor is very pleased to see the attention and focus that ProFood Tech will bring to the North American food and beverage industry," says Dale Andersen, president and CEO of Delkor Systems, Inc. "Koelnmesse's outstanding reputation as a trade show organizer only strengthens this collaboration."
"As a world leader in processing and packaging technologies, Tetra Pak is excited about the potential ProFood Tech holds," says Carla Fantoni, vice president of communications for Tetra Pak U.S. and Canada. "The joint efforts of PACK EXPO, Anuga and IDFA clearly demonstrate a commitment from these three leading organizations to establish a trusted brand serving all food and beverage categories. We think this consolidated approach will help suppliers and customers alike make the most of the show."
ProFood Tech is a totally unique endeavor with the collaboration of three of the world's leading industry organizations, all with ownership of this initiative. The new show will combine the unrivaled experience and recognition of PACK EXPO, Anuga and IDFA to create an event that will be unprecedented in its ability to address all of the issues facing food and beverage processing operations in the North American marketplace like sustainability, improved operations and food safety.
For more information about ProFood Tech, visit profoodtech.com or contact [email protected].
Companies in this article