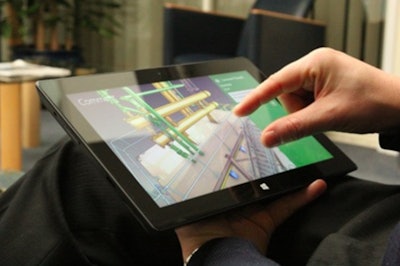 If there's a time to be less reliant on the oil and gas sector, now is probably it. That could well be what British engineering software company Aveva is thinking as it embarks on its acquisition of select industrial software assets from France's Schneider Electric, which will give it more access to other industrial sectors like pharmaceuticals, food and beverage, mining, water/wastewater and chemicals. The oil and gas industry currently accounts for about 45 percent of Aveva's revenue. The agreement would also give Aveva considerably more access to the American market.
What Schneider Electric is thinking, however, has been a subject of considerable speculation. The industrial software assets that are on the table in this deal include, among others, the Invensys software assets that Schneider bought in 2013. So what does it mean that Schneider seems to be selling that software business off? That the Schneider/Invensys acquisition that seemed to be going well is actually going south? No, I don't think so.
Such speculation is premature and merely sensational. It's also important to really look at the new deal with Aveva. Although Aveva is reportedly acquiring Schneider Software, Schneider is also paying £550 million (about $860 million) for new Aveva shares. This will give Schneider Electric 53.5 percent ownership of what will now be known as the Enlarged Aveva Group. The transaction is actually classified as a reverse takeover of Aveva.
Combining Aveva with software assets of Schneider Electric seems to make sense. When Schneider announced its acquisition of Invensys two years ago, it pointed in particular to the benefits of acquiring an industrial automation player with a strong software presence. Indeed, software has become a vital component of the automation landscape. And combining those assets with Aveva's only makes Schneider's software proposition that much stronger.
"The combination will create a global leader in industrial software, with a unique portfolio of asset management solutions from design and build to operations, and will address customers' requirements along the full asset lifecycle in key industrial and infrastructure markets," said Jean-Pascal Tricoire, chairman and CEO of Schneider Electric. "It will also create the right environment for the software teams to develop aggressively their business, while benefiting from the multiple commercial access of Schneider around the world."
Together, the Enlarged Aveva Group will be able to provide an integrated offering of the complete digital asset lifecycle—including process simulation, 3D design, asset data management, operations management and asset performance management for large, complex engineering projects in the process and plant industries. The product portfolio will include Schneider Electric's SimSci, Wonderware and Avantis along with Aveva PDMS, Aveva Everything3D and Aveva Net. Combined revenue is expected to be about £534 million (about $834 million).
"The transaction will be transformational to Aveva, creating a global leader in industrial software, which will be able to better compete on a global scale," said Richard Longdon, Aveva's CEO. "Through the acquisition of Schneider Software, Aveva will significantly expand its scale and product portfolio, diversify its end user markets and increase its geographic exposure to the U.S. market, in line with our strategic goals."
Tricoire added, "We believe that through increased scale, complementary footprint and joint R&D capabilities, the transaction will generate synergies that will benefit customers and shareholders alike."
The transaction remains subject to the completion of mutual due diligence, agreement on the terms of legal documentation, the approval of the boards of Schneider Electric and Aveva, Aveva shareholder approval, and relevant anti-trust and regulatory approvals.
Companies in this article