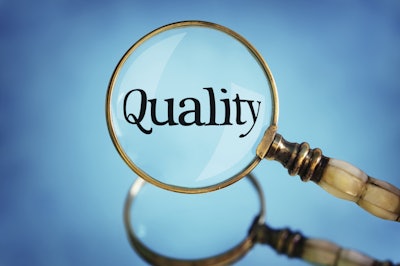 As part of the Food and Drug Administration's current good manufacturing practice (cGMP), pharmaceutical companies must ensure the quality of drugs right down to the safety of the raw materials. That requires testing the chemical makeup of materials, and it typically means sending samples to a lab for inspection.
But now, as part of the move toward quality-by-design operations and a shift from batch manufacturing to continuous process, companies are looking for new ways to obtain real-time results.
Viavi Solutions, a provider of high-precision optics, is helping the effort by delivering two new tools as part of its ultra-compact spectrometer portfolio that enables pharma companies to obtain the analysis they need at the point of use in the field. The MicroNIR OnSite and MicroNIR PAT, announced earlier this month, are near-infrared spectroscopy devices that can simply point at an organic substance to quickly and accurately measure its material makeup while monitoring critical process parameters.
MicroNIR PAT (process analytical technology) is designed for real-time in-line monitoring of multiple points on batch or continuous manufacturing processes without the need for extensive capital costs or major reconfiguration of existing manufacturing processes. MicroNIR OnSite, a rugged handheld analyzer suitable for rapid and nondestructive analysis of raw materials, enables quality control managers in pharmaceutical, chemical—and even food manufacturing—to quickly accept or reject incoming material, as well as perform compositional testing and quality checks on products throughout the manufacturing process.
Raw material inspection tools are usually bench top instruments, said Nada O'Brien, director of marketing and product management of MicroNIR. And the existing handheld devices available tend to be bulky and heavy weight. "We shrank the size, reduced the weight, and we did not compromise performance, which is an important advantage," she said.
Users of the product agree. "We have worked with the MicroNIR technology on our solid dose continuous manufacturing pilot line," said Fernando Muzzio, director of C-SOPS and Distinguished Professor at Rutgers University. "The excellent performance and compactness of the MicroNIR products provide an increase over competing instruments that are more expensive and much larger in size. This allows us to explore in greater depth the process development, monitoring and control to a much greater extent that has not been possible before."
The MicroNIR spectrometers leverage Viavi's Linear Variable Filter (LVF) technology and other proprietary technology in optical system design and miniaturization. In addition, the instruments include software that provides a complete audit trail for compliance with the FDA's 21 CFR Part 11 regulation.
In addition to raw material inspection in pharmaceuticals, other use cases for MicroNIR include food analysis to combat fraud, animal feed testing for optimizing nutritional ration, illegal substance identification and more, O'Brien said.
And why is a small, easy-to-use inspection tool so important? "When you think about the fourth industrial revolution and the digital and physical convergence, interconnected devices will need to be small and affordable to create the smart factory people are talking about," O'Brien said. "It is all about automation and getting the data, and the day will come when quality control managers will have information at their fingertips."