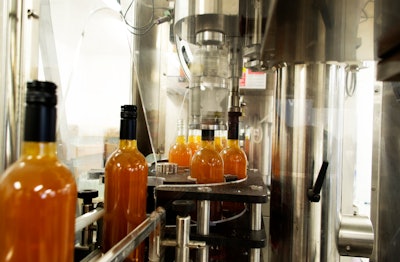 In an effort to address some of the biggest manufacturing concerns in the food and beverage industry—ranging from asset availability, maintenance costs, labor efficiency and process improvements—Schneider Electric, this week, announced the availability of a turnkey line productivity tool.
The Line Performance Suite for Food & Beverage and Consumer Packaged Goods (CPG), bundles the company's manufacturing execution system (MES) with data capture, root cause analysis, and integrated reporting. Workflow applications tie it all together through model-driven operations management that enforce business processes, enable collaboration and standardize best practices across multiple sites.
And, while having all of this capability rolled into one offering is appealing, perhaps it's more appealing to cost-conscious manufacturers that it is all delivered in a subscription-based model. That means paying for the MES implementation comes out of the operating vs. capital budget.
According to the company, having MES, reporting and workflow functions working in unity helps ease line set up and configuration for faster time to value. It also removes line performance bottlenecks to reduce downtime and gain process metrics for both automated and manual lines, and improves product quality by lowering scrap rates and improving first pass yields. In addition, key performance indicators (KPIs) provide real-time access to critical operating parameters.
"Integrated reporting and analysis ensures packaging line output is optimized, providing greater understanding to locate process weaknesses and maintain maximum throughput," said Doug Warren, vice president of Industry Solutions at Schneider Electric Software. "What results is better intelligence on line performance for more informed decision-making."
According to the company, food & beverage and CPG manufacturers using the Line Performance Suite can achieve ROI within a year or less, while improving overall equipment effectiveness (OEE) and equipment uptime by as much as 20 percent, and increasing quality by as much as 30 percent and productivity by 10 percent.
Schneider Electric has been beta testing the Line Performance Suite with some of its customers, but is announcing the official commercial availability this week. This is the first of several vertical suites Schneider Electric will roll out this year as it transitions its traditional "horizontal" offerings to specific industries. Other industry packages to be released include: software that reduces compliance and operations costs for Life Sciences; digitization of refinery process unit optimization in oil and gas; and a way to unify supply chain management for metals, mining and minerals, for example.
In addition, as part of the offerings, the company will be working with its partners and in-house services teams to re-use implementation processes in an effort to accelerate deployment and better deliver multi-site implementations, the company said.
Companies in this article