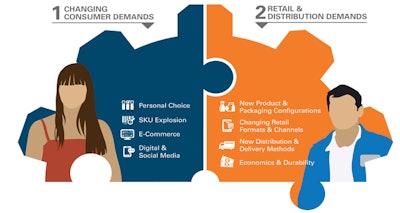 Consumer demands and SKU explosions continue to effect the entire food and beverage supply chain as well as OEMs. While these demands create more challenges, they also generate opportunities.
As a part of its ongoing outreach to Consumer Package Goods (CPGs) professionals, PMMI conducted focus groups with 65 CPG participants during PACK EXPO Las Vegas on September 28-30, 2015. Topics included process improvement, workforce development, machine operations, procurement, global demands, equipment trends, sustainability, maintenance, lean manufacturing and many more.
In addition, PMMI's Top to Top Summit held earlier this year provided an opportunity for CPGs and OEMs to discuss not only the focus groups' findings, but also ways to address critical challenges facing the food industry.
This infographic shown here depicts how growing consumer demands and the SKU explosion reverberate upstream through the supply chain and the effect this has on CPGs and OEMs.
Part one of this five-part series will focus on solving the changeover challenge with multifunctional equipment.
Download the Top to Top report.
The changeover challenge
The rising number of SKUs necessitates an agility in equipment/line changeovers that are cost effective from both a capital spend perspective and an overall equipment effectiveness (OEE) perspective, according to PMMI's research. The emphasis is on vertical start-up and speed-to-market.
Changeovers require flexible equipment that fulfills a variety of functions and whose components are easy to swap out. Equipment designs must be user friendly and safe for operators. Sanitary equipment design is also essential for providing safe foods for consumers. In addition, equipment must deliver reliability and efficiency improvements. In fact, a huge challenge for food and beverage today is finding the right balance between standard and custom machinery.
Some of the biggest changeover challenges faced by food and beverage processors include:
How to enable mistake-proofing and create fail-safes
Shortages of talent, training and knowledge
Changeovers that are difficult and time consuming
Proliferation of SKUs that required more format flexibility
Continuous pressures on effective line clearance and cleanability.
Those surveyed by PMMI listed many possible solutions to the changeover challenge, such as more reliance on automation, the increased use of sensors and robotics, the creation of documented procedures and checklists for validation, and the development dedicated changeover crews, dedicated lines, and recommending that that PMMI's OpX Leadership Network develop common definitions and best practices.
Concerning workforce changeover challenges, those surveyed requested more animation in HMI videos, more intuitive HMIs, increased training from OEMs, and having production staff input before and during equipment installation.
Download the Top to Top Report.
For more information on current industry challenges and solutions from PMMI such as Total Cost of Ownership, Factory Acceptance Testing and more, visit OpX Leadership Network.
Part two of this five-part Vision 2020 series on today's manufacturing challenges will focus on finding hidden opportunities in the "thinning" of production operations, as throughputs increase and staff is asked to do more with less resources.