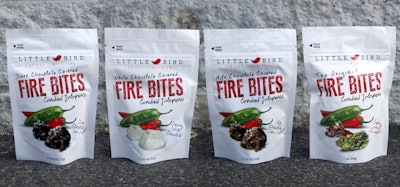 A most unusual taste combination, Little Bird Curious Confections' candied jalapeño peppers were born one day when company co-founder Sara Meyers began experimenting in the kitchen with candying everything in sight. Says husband and co-founder Corey Meyers, "We joke that we had to keep the kids out of the kitchen, or she would have candied them!"
After receiving overwhelming praise for the products from co-workers, the Meyers began selling candied jalapeño products, as well as other candied treats, at venues such as flea markets and local boutiques. But to take their product to the next level, they needed to upgrade their packaging from a cellophane bag with sticker to a professional, polished presentation. Upon meeting with creative agency BrandFire, Corey Meyers says, "the ideas just started flowing." From there, BrandFire assumed the rebranding of the product, in addition to the package design.
Says BrandFire Director of Content & Strategy Casey Hochberg, "They were looking for something that reflected the brand story and captured their passion for making their curious confections. The name 'Little Bird' meant a lot to them, so we create a playful brand and modern packaging that leaned into that meaning."
Taking a deep dive into the brand, BrandFire learned that Little Bird's most popular product was its candied jalapeños, which comprised 80% of their revenue. "We sensed their playful, experimental energy, so we focused Little Bird's whole business on making 'curious confections,' which actually helped them decide which products to develop down the road," says Hochberg.
The Meyers gave BrandFire free rein with the design, with the understanding that they wanted something "clean, bold, and fun," says Sara Meyers.
The new package is a flexible stand-up pouch with zipper that holds 1 to 1.5 oz of product. There are four varieties under the Fire Bites name—Dark, Milk, and White Chocolate Covered, and Candied Jalapeños—and one under the Fire Bark name, Dark Chocolate Fire Bark with Crushed Candied Jalapeños. The pouch is made from a multilayer film construction of PET/ink/aluminum/linear low-density polyethylene, is five- or six-color gravure-printed (depending on variety), and is supplied by Dura-Pack.
Providing a clean, sophisticated backdrop, the pouch has a white background. The central focus of the graphic design is the jalapeños, which Hochberg says are a bigger story than the chocolate—"a pretty universal ingredient." She adds, "The word 'Fire' in both product names carries some of that story, and great product photography with serious appetite appeal helps complete it. While the bites product uses a glossy finish, the bark features a modern matte texture to differentiate the two lines, while making sure they're perceived as the same family.
The Little Bird name—taken from Corey Meyers' grandmother's name Faye, which means "little bird" in Yiddish—is part of a logomark that includes a red icon that can double as a bird, or as a chili pepper, which Corey Meyers says is a talking point for everyone.
The new packaging was launched in early 2015 and since then has been picked up by nearly 45 specialty and candy stores across the Southwest and East Coast, boosting Little Bird's sales by 500%. Its most recent product, Fire Syrup jalapeño-infused syrup in three flavors, with packaging also designed by BrandFire, was introduced in summer 2016.
Companies in this article