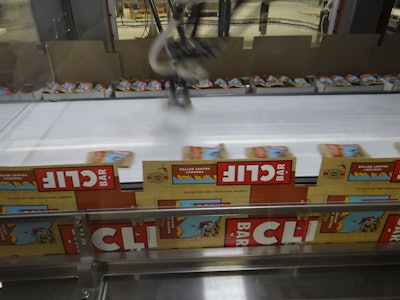 Described as "the next chapter in the fascinating success story of Clif Bar" by the company's Senior Project Engineer, Jeb Sloan, Clif Bar & Company's new Twin Falls, ID, bakery was engineered with speed, equipment redundancy, and system flexibility in mind. In operation since May 2016, the new plant covers 300,000 sq ft and currently runs two high-speed production lines manufacturing and packaging organic energy/nutrition bars. Key to attaining this speed is the use of a top-load robotic carton-loading system custom-designed by BluePrint Automation that Sloan explains provides the needed built-in redundancy to keep product in the system, even when there are equipment stoppages.
In March 2015, Clif Bar broke ground on the $90-million Twin Falls bakery, which was built to keep up with growing demand for its CLIF Bar, CLIF Kid Organic Zbar, and CLIF Mini energy bar products. The Clif Bar Baking Company of Twin Falls is the company's second bakery; the first, in Indianapolis, was recently acquired by the company from its former co-packer.
In specifying equipment for the packaging line in Twin Falls, Sloan says Clif Bar was looking for a system that could absorb minor stoppages over the course of a run. "If a piece of equipment were to go down, we wanted to have the ability to keep the line running, either by using a similar piece of equipment or by rerouting the product around the disruption and then reintroducing it back to the line," he says.
Another requirement of the secondary equipment was that it could be quickly and easily changed over to accommodate a range of flow-wrapped, heat-sealed energy bar product sizes and packaging formats—5-, 6-, 7-, 12-, 18-, and 100-ct cartons among them—to maximize available run time.
Clif Bar was also seeking a system with the flexibility to not only run its current product portfolio, but also future products as well. "We are a company that prides itself on innovation," says Sloan. "We want to make sure our systems have the flexibility to accommodate our robust innovation pipeline, without having to retrofit the line."
Lastly, Clif Bar was looking for a system that could handle its product gently, eliminating deformation of the baked bar as it travels through the packaging line.
To address these requirements, BPA equipped each packaging line with a secondary packaging system comprising two Kliklok Genesis top-load carton formers, ABB FlexPicker™ delta-style robots for carton loading, and two Kliklok Vari-Straight three-flap carton closers, with the carton formers and closers supplied by Bosch Packaging Technology. The systems handle bars coming from Sigpack HCM horizontal flow wrappers, also supplied by Bosch PackagingTechnology. After wrapping, the bars are carried by conveyor to the two packaging lines, consisting of carton forming and carton closing equipment on each side of the conveyor.
Explains Jerry Buckley, Midwest Regional Sales Manager for BPA, cartons run on both sides of the product pick belt at 50% speed when both carton formers and carton closers are running, but if one jams and stops, then the cartons on the other side run at 100% speed, so that all bars can be placed into cartons on the side that is running. "Thus, all products go into cartons instead of into re-feed bins," he says.
BPA also equipped each carton-loading system with two additional redundant robots, so that if one or two robots are being worked on, e.g., having a suction cup changed, then the other robots will continue to load cartons.
"When you compare this technology to other systems that would solve the same problem, the only way to do that would be to buy more pieces of equipment to get the redundancy," says Sloan. "With more pieces of equipment comes more square footage, more operators, more energy usage, and more complexity. We're able to avoid having to do all that by using this robotic top-load system."
Another advantage of the BPA solution is its vision-guided robotics system. Using a Cognex In-Sight® bar-tracking vision system, the BPA carton loader's vision system processor is fast enough to receive bars into the loader with no need for them be rotated or have lanes balanced, which eliminates touches prior to picking. "This removes a known problem, as the bars can jam up at 90 degree turns, and there is no value in any additional touches," says Sloan.
In similar applications, Buckley explains, SCARA robots do not have the reach to pick products from more than just the closest two lanes. "So if the cartons on that side of the product pick belt stop for some reason, then those bars just pass by the robots and go off the end of the pick belt for re-feeding," he says.
With the Twin Falls system, the ABB FlexPicker robots can reach all lanes of incoming product, so there is never a time when the system can't keep up with the product throughput, and all products are then put into cartons.
Another unique feature of the BPA system is that the touchscreen allows for changes in the percentage of bars going into a certain-count carton. Therefore, if Clif Bar urgently needs to fill an order for 12-ct cartons, they can put 70% of the arriving product into the 12-ct carton side, with 30% going into the other carton being run—a 6-ct, for example—instead of always having 50% of product going into a carton on one side of the product conveyor and 50% on the other.
Following carton loading and sealing, the cartons are case-packed via four BPA model HPP robotic top-load case packers.
The secondary and tertiary packaging equipment is equipped with Allen-Bradley controls, integrated by BPA. BPA also programmed the systems to handle all of Clif Bar's current packaging configurations as well as trained its operators to become self-sufficient on the machinery. "BPA did the initial programming and setup, but we wanted to be sure the knowledge is transferred and our team members are well trained so that we're able to do predictive and preventive maintenance on the systems ourselves," says Sloan.
He adds that Clif Bar hired its team members and put them through technical and skills courses at the College of Southern Idaho before the bakery was up and running. "It took us a solid three months of classroom and hands-on learning of the BPA system to get to the point where we could operate it on our own," he says. "Given the complexity of what we're dealing with, it wasn't that long. The system is quite intuitive and user-friendly."
Looking at the system as a whole, Sloan says BPA delivered on all requirements—and more. "Early on we felt like BluePrint was a like-minded company to Clif Bar, and we saw a lot of strength in their people," says Sloan. "Not only is our technical salesperson Jerry Buckley best-in-class, but so are all the team members behind the curtain.
"We weren't just looking for a strong technical solution with equipment that would do what we needed it to do, we were also looking for a partner that we could establish and continue to develop a long-term relationship with. So far, it's been just that."
Companies in this article