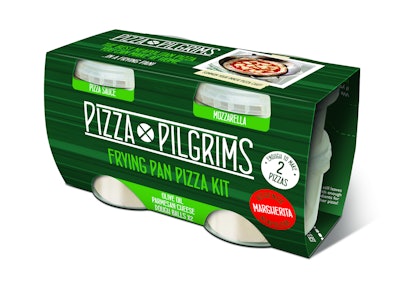 London-based Pizza Pilgrims eatery has teamed up with Amazon Fresh to launch a pizza kit that allows consumers to make their own pizzas at home. Slice Design collaborated with Pizza Pilgrims to create the structural packaging and graphic design of the new kit to ensure it was convenient to deliver and easy for the consumer to use, explains Sarah Jones, senior designer, Slice Design Ltd., London.
Different structures were explored to package the contents securely, conveniently, cost effectively, and create a design that encapsulated the Pizza Pilgrims brand of product convenience and authenticity. The final design is made from recyclable carton board that supports the four tubs made of recyclable polypropylene that contain the same pizza ingredients Pizza Pilgrims uses in its restaurants, including sauce, cheese, olive oil and dough. There are enough ingredients to prepare two pizzas. Minimum shelf life is three days.
According to Pizza Pilgrims Founder James Elliot, Slice delivered a packaging solution that balanced creativity and functionality. In fact, the Pizza Pilgrims team that puts together the packs in its London restaurants, and all of the ingredients are prepped and packaged by hand in the eateries. The inside of the pack provides step-by-step cooking instructions.
"There is a growing demand for consumers to make food from scratch, at home," says Jones. "The consumer is becoming more adventurous with food, more aware of where the ingredients come from, but [they] also want to keep the cooking process quick and simple."
Companies in this article