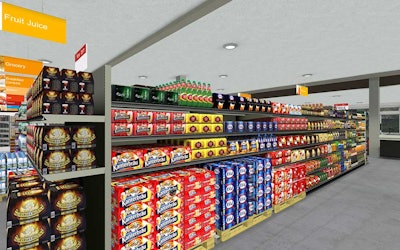 Responding to a need from the consumer packaged goods (CPG) market for more responsive secondary packaging, Norcross, Ga.-based WestRock is creating turnkey systems with the help of 3D collaborative software from Dassault Systèmes.
As the product of a merger last year between two packaging giants—MeadWestvaco and RockTenn—WestRock is a company that not only designs consumer packages, but also makes secondary packaging machines and offers consumer testing. WestRock's Insight to In-Market process helps CPG companies accelerate time-to-market for new designs or iterations of existing secondary packaging, such as paperboard cartons on grocery store shelves.
"A retailer spends millions developing its product, and the can or bottle design (the primary packaging) for that product," says Bill Cecil, vice president of machinery and automation for WestRock's beverage business. "But it devotes virtually no resources to the secondary packaging—the cardboard case.
To implement the design and machinery for actual packaging production operations, WestRock uses 3DExperience software from Dassault Systèmes. This collaborative platform allows for design, manufacturing and field service components to be implemented by remote teams to accelerate time to market. As part of this package, Dassault's Perfect Shelf allows WestRock's package designers to simulate and display a packaged product on a virtual store shelf surrounded by competitive products.
"One of the weaknesses of traditional product design is that packaging is created in a vacuum," Cecil says. "This solution reminds us how our package compares with the rest of the market, and encourages us to seek new ways to differentiate it."
For this particular pilot program, package conception started in France and included design teams from the U.S., Australia, China, Germany and Brazil. New graphics were designed for the secondary packaging, comprised of corrugated packaging material. Packaging machine configuration came next.
Dassault's product lifecycle management (PLM) platform features components such as service lifecycle management, systems engineering and virtual commissioning technology. "Since the collaborative platform digitally integrates all the generated data, the final 3D design goes to automation teams and our machinery engineers," Cecil says. "So they have a real digital facsimile to engage the machine."
WestRock's goal for total time from the design stage (including upstream ideation around pack definition with the customer) to the manufacturing stage is six months—down from 12-18 months.
Via its control configurations in the 3DExperience platform, the system offers time-saving advantages for varying package sizes. The platform communicates to production PLCs for carton size changeovers, adjusts fold parameters and manages multiple I/Os from machines outside of the primary packaging line—upstream and downstream.
"That's where the platform brings a lot of value, via its connection to the servo motion and PLC programs—virtual commissioning capability," says Philippe Duperray, innovation manager for the Global Machinery Group at WestRock.
Embedded robotic technology from Bosch Rexroth helps provide a smooth transition from final carton design to machine configuration via virtual commissioning with this pilot program.
"WestRock uses the platform to create a dynamic model in the machine in order to connect the real-motion controller and virtually validate the behavior prior to physically building the product," Duperray says. "Robotics are very specific and, at design phase, WestRock can define precisely any electro cam effect in Dassault Systèmes' CATIA environment."
Most importantly, this ensures the correct application at any step of its machine cycle and avoids mechanical interferences or mis-synchronization, according to WestRock.
Through the software platform, WestRock is moving quickly to capitalize on two major trends in manufacturing: third-party services and better enterprise visibility. "The real key benefit is concurrent engineering in a collaborative and interactive mode between [sets of] expertise," Duperray says. "This is where WestRock sees the big breakthrough compared to its previous tools, [which worked] in silos for each activity."
Companies in this article