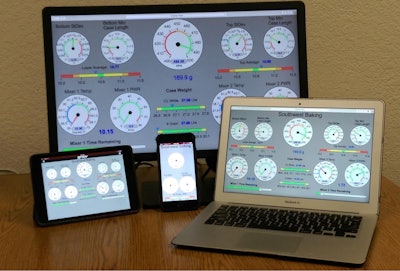 The food and beverage industry continues on its path to plant modernization. Options include full-scale automation, smart device upgrades, new control platforms, industrial networking upgrades, data acquisition software or improved supply chain systems.
One path has been to integrate legacy control architectures with newer, open networking protocols that streamline data acquisition from different control architectures on the plant floor, which is a high priority due to FSMA.
Southwest Baking, a contract manufacturer based in Arizona, recently upgraded its facility with a plant monitoring system and a lean operational staff. The bakery uses Opto 22's groov mobile monitoring platform to monitor key performance indicators such as weight measurement and average length parameters for its products.
The app and monitoring platform allows Southwest Baking to use this browser-based software from Opto 22 to build mobile monitoring interfaces and then allow production personnel to login via smartphone or tablet. The food manufacturer leans on all of its employees, both management and operators, to monitor 11,000 lbs./hr. of frozen product runs according to KPIs.
"We use it (monitoring platform) strictly [for] indicators, and it's meant to be more than a HMI," says Rob Wroblewski, plant engineer at Southwest Baking. "We don't use it to actually control food processing; just for data in a useable format."
The open platform communications' unified architecture (OPC UA) industrial networking solution enables Southwest Baking to retrieve control data from many types of equipment at the plant, such as freezers, mixers and processing platforms.
OPC UA is an open platform networking architecture for process, batch and discrete manufacturing applications. The OPC networking platform allows plants to reduce engineering by moving away from proprietary, device-specific PLC drivers that require periodic operation updates. In this example, OPC protocols poll three, disparate control platforms at Southwest Baking and display them to the monitoring platform.
Southwest configured floor displays and devices to show different monitoring data for different groups, such as production and engineering pages. The monitoring platform provides permission layers for different data pages.
Modernization efforts
Data acquisition is the holy grail for most food manufacturers and much of it is because of food safety inspections. Food ingredient audits, whether it's FDA or the British Retail Consortium (BRC), can be a real reporting headache due legacy processes or even manual methods.
Advanced Automation, a system integrator, recently installed a custom software solution for a food company using Indusoft's (Wonderware by Schneider Electric) Batch Process Analysis software to address an upcoming BRC ingredient audit.
The customer's batch process screamed of inefficiency with its manual process for recording ingredients, batch sequences, weight parameters, product consistency and waste procedures.
Key factors in the software decision included the ability to make changes to the application easily, and integrate it with older hardware already owned by the customer as well as newer installed devices, and the ability to create custom drivers for the existing PLCs, according to Advanced Automation.
The modernization effort began with all recipes stored in a SQL database, but also included the micro batch solution that used Indusoft's smart scale application to simultaneously record and produce recipe batches on the plant floor. The scale weighs each ingredient and records mass balance, lot numbers, tracking information and current ingredients in stock and in use.
And, of course, operators can now download reports or track a lot immediately for food safety audits.
Modernizing food plants take time, but data acquisition building blocks and flexible networking are producing efficiencies for forward-thinking companies.
Companies in this article