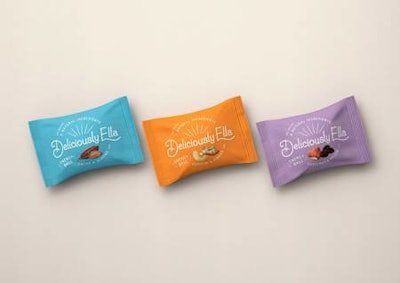 Integrated branding agency Ragged Edge redesigned the packaging for food blogger Ella Mills' Deliciously Ella Energy Balls, bite-sized snacks made with four to six natural ingredients in three different flavors (hazelnut and raisin, cacao and almond, and cashew and ginger). The brand identity includes a new design system and updated logo, which is shared with the Mae Deli, located in London and co-founded by Ella and her husband, Matthew.
Ella has reached millions with her blog and recipe books, and is now seeking to bring to life and make accessible her philosophy through the new range of Deliciously Ella Energy Balls.
The packaging aims to reflect her three core values: natural, simple, and honest.
The design stands out against competitors in the health food category, where neutral tones dominate. Ragged Edge took inspiration from Ella's natural charm and personality, to infuse bright colors with handcrafted cues.
A logo based on Ella's signature reinforces her personal connection with her followers, while a delicate sunburst communicates her optimistic outlook. A hand- drawn typeface reflects her honesty, while matte packaging with a little texture helps the product to feel premium and desirable to touch.
The hand-painted illustrations of the produtcts capture the their natural qualities, without sacrificing standout on shelf.
Workshops with the Deliciously Ella team and research into her passionate audience helped to distill the essence of her success.
"Much of Ella's popularity stems from her open and honest relationship with her followers. Maintaining that level of trust as her brand grows into new areas was crucial," says Max Ottignon, Ragged Edge Co-founder. "So our strategy set out to build on her core values and create a beautifully crafted design, with substance and weight."
"The visual identity created by Ragged Edge really captures Ella's optimism and her core values," says Dan Barrett, Managing Director, The Mae Deli. "It is such a natural fit with her philosophy. The bright colors will help it to stand out against health food products in a highly competitive and growing sector. And the work carried out by Ragged Edge will help us to take the brand forward into the future."
Ragged Edge also rebranded The Mae Deli with a logo that playfully references the origin of itsname, Matt and Ella, while the supporting system shares the Deliciously Ella sunburst and typography.
The Deliciously Ella Energy Balls launched into Whole Foods this month and will be rolled out to selected supermarkets.