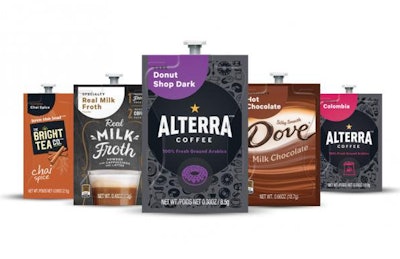 As of March 2016, single-cup sales growth comprised 74% of retail coffee sales growth of $761 million, according to market research firm Packaged Facts. But many of these pods are not fully recyclable and wind up in landfills, leading some of the leading single-serve coffee players to rethink their packaging.
Mars Drinks, the workplace focused division of food and candy maker Mars, Inc., has developed a new design for its single-serve Freshpack that now has a 31% carbon footprint reduction.
"One of our key business priorities is to become the most sustainable provider of workplace beverages in the industry," says Samantha Veide, global director, corporate sustainable solutions, Mars Drinks. "The needs of our workplace customers are central to our 2016-2020 Sustainability Strategy, and they told us that their biggest priority was diverting waste from landfill. Because of this, our single most important sustainability priority over the next five years is to solve the waste challenge for workplaces."
In creating a more sustainable design, Mars Drinks considered "upstream" environmental factors. As part of that approach, the company re-examined the whole Freshpack production process and identified the raw material extraction of aluminum was the most significant contributor to the carbon footprint of the raw materials in its pack.
"The previous Freshpack was made up of three layers, a layer of aluminum between a layer of PP and PET. To create the new pack, we removed the aluminum layer completely. It has not been replaced with any new materials," she says. "By removing aluminum, Mars Drinks reduced emissions from the raw material extraction by 40%."
While the size and dimensions of the packaging have remained the same, a new look for the Freshpack streamlines drink selection. A bright navigation tab helps people quickly identify their desired taste, and the back of the pack features a see-through window that highlights the freshness of the ingredients. An individual UPC enables individual purchase.
Mars Drinks produces the new packaging for the North American market at its LEED Gold Certified Campus in West Chester, PA.