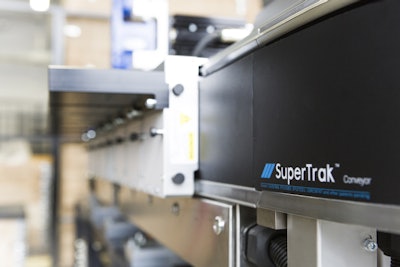 Mass customization in a constantly changing marketplace. Packaging and consumer product markets are facing high demands to move quickly, and production is being pushed by the flexibility needed to give consumers exactly the product they want, how they want it. That demand was clearly on the minds of the automation experts showing their capabilities at PACK EXPO this year in Chicago.
Packaging customers are interested in a single line that can handle a lot of changeover, said John Kowal, director of business development for B&R Industrial Automation. "Even at the sacrifice of speed, changeover is becoming a hot topic."
Microbreweries, for example, are packaging their beers in rainbow packs, a typically labor-intensive process. "If you could do that in the manufacturing process, you can eliminate an entire step," Kowal said.
"Flexibility is no longer an option," said Frank Langro, director of marketing and product management at Festo. "It's a necessity for packaging."
The need for more customization and quick changeovers was a prominent theme at Festo's PACK EXPO booth.
Pitch perfect
B&R is helping to accommodate shorter product lifecycles and shorter runs with more frequent changeovers through automation by replacing manual changeover procedures and tools with recipe-driven, pushbutton automated changeovers.
Through its collaboration with ATS Automation, B&R combines the SuperTrak linear track conveyance system with its own integrated machine and robotic control to create a batch-of-one environment for collating, filling, sealing/capping, inspection, serialization, coding, labeling and other packaging applications.
With each station able to perform multiple tasks, there are fewer dedicated workstations and reduced need for accumulation buffers, which means less floor space needed. Work can also be performed around corners that were previously dead space. Also, instead of manually loading magazines, materials can be transported on pallets and replenished automatically. In all, SuperTrak is expected to perform the work of up to two conventional lines, using about half the space.
"It provides a lot of flexibility," Kowal said, "in about half the space and about two times as fast. And it still has good accuracy and full power around curves."
SuperTrak can run different products on each pallet, providing mass customization capabilities, Kowal explained. Flexible pitch—robotic integration combined with totally independent, bidirectional pallet control—means that the track system balances multiple stations, simultaneously performing time-consuming tasks on multiple products, with single-product stations performing the faster processes on consecutive products. "Nothing's ever waiting if you work it out correctly," Kowal said. A process on a typical conveyor line would require delays or multiple lines, he added.
Frozen lasagna is an example of a product that is very labor-intensive to assemble. "Now you can be building it to order," Kowal said. "That's variation that you just can't do on a conventional conveyor line."
ATS Automation's SuperTrak has 14 years of proven capability on the market. B&R is maximizing the controllability, Kowal said, and working with ATS on upgrades like the ability to work around corners, coordinated robots and anti-slosh.
With particular pride, Kowal showed SuperTrak's ability to carry liquid without sloshing it out of the container—a prospect that made the technology pretty interesting for a capping company that had come to check it out. "It matches the frequency of the motion to the frequency that causes the sloshing," Kowal said. "It's matched with the viscosity."
Shortening lead times
Bosch Rexroth was also showing a conveyor system with food and packaging markets in mind. As anybody might notice from their weekly grocery shopping, packaging is constantly changing. "Change has to keep up in the factories too," said Tony Babich, senior sales engineer for Bosch Rexroth.
He was showing off Rexroth's VarioFlow plus chain conveyor system, which has been upgraded to offer users a series of standardized systems for specific conveyor functions, which simplifies the fast implementation of customer-specific designs. With its ability to achieve easy and fast implementation of diverse, complex transportation tasks, the conveyor system makes it easier for manufacturers to achieve a shorter time to market.
Though the VarioFlow system has been around for some 15 years, Babich said, it is now quieter, lower-cost and enables shortened lead times. The system enables flexible, customized systems, and saves space. In addition, the MTpro planning software supports fast projects and planning and the ability to make short-term adjustments to changing market requirements.
Based on comprehensive application know-how, Rexroth has developed drop-in solutions for specific conveyor functions, such as a mechanically controlled traffic barrier for conveyor section junctions. These ready-to-use components simplify the implementation of customer-specific systems for the user, without the need to spend great effort on planning.
Companies in this article