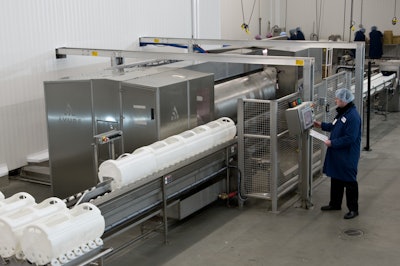 Increased consumption of packaged foods, growing ready-to-cook meat production, government assistance toward developing food technologies, and widening applicability of high pressure processing (HPP) equipment are some of the trends driving the high pressure processing equipment market. Thus, the sector is projected to reach a value of $500.3 million by 2022, according to a recent report from Markets and Markets.
The horizontal segment is the fastest-growing orientation type segment in the HPP market due to the rise in demand for equipment to process packaged food products. Horizontal HPP equipment has advantages such as disassembling, reassembling, easy installation, and more throughput capacity. Dr. Errol Raghubeer, senior vice president of HPP Science & Technology, Avure, says that Avure's AV60 horizontal HPP equipment features a large-diameter vessel that holds more product per cycle, resulting in greater throughput.
"By increasing diameter size instead of length of vessels, less floor space is required for installation," he says. "Additionally, unlike similar horizontal systems on the market, the Avure uses wire-winding on the frames of its vessels for improved strength and durability that result in a significant reduction in total weight of the system."
HPP is a recognized process to increase the microbial safety of foods. The FSIS recognizes HPP as a post lethality treatment for the control of Listeria monocytogenes in RTE meat, says Raghubeer. So it should come as no surprise that ready-to-eat meat processors, like Hormel Foods, are among the largest HPP equipment ownership base, using it for products that contain natural or minimal ingredients. "High pressure is applied after the product is in the package, so there is no opportunity for product contamination, and it allows the great natural flavor of the product to be maintained until our consumers use the items," explains Kevin L. Myer, vice president R&D, Hormel. "The process is more expensive than adding antimicrobial ingredients, but the food safety and flavor benefits outweigh the cost for Hormel Foods."
In addition to the RTE market, fruits and vegetables accounted for the largest share in the application of HPP equipment in 2015. Jon Sebastiani, CEO and founder of Sonoma Brands, says: "Flavor and freshness are a part of everyday life in Sonoma and in creating ZÜPA NOMA, our line of ready-to-sip chilled vegetable superfood soups. Each of our culinary-inspired flavors includes servings of whole, organic veggies, seasonings, and superfood ingredients. HPP allows us to mitigate any risks associated with consuming completely raw produce, while not damaging the nutritional integrity of our whole, raw, organic vegetables by cooking them."
Like Hormel, ZÜPA NOMA uses Avure HPP equipment. However, Raghubeer points out that roughly 20 % of HPP equipment is used exclusively as tolling operations. "There are a few companies that offer HPP systems as well as limited "tolling" to take advantage of excess capacity of their equipment." For instance, Hormel uses toll facilities when needed during peak periods of production.
PMMI, The Association for Packaging and Processing Technologies, announced the formation of an industry council focused on the advancement of High Pressure Processing (HPP) as a critical technology in the food and beverage industry. Convened by PMMI, the HPP Council will address questions about the technology while developing and formalizing industry best practices. The new council will also promote networking among professionals using this processing technology.
The Council officially launches at ProFood Tech (April 4-6; McCormick Place, Chicago). Founding members will share the latest process insights and successes in a session on the ProFood Tech Innovation Stage on Wednesday, April 5 at 2:30 p.m. The group will also host a booth (Booth #937) on the show floor and will participate in the OpX Leadership Network's Executive Council meeting.
Read the full announcement on the HPP Council here or visit www.profoodtech.com to register for the show.
Companies in this article