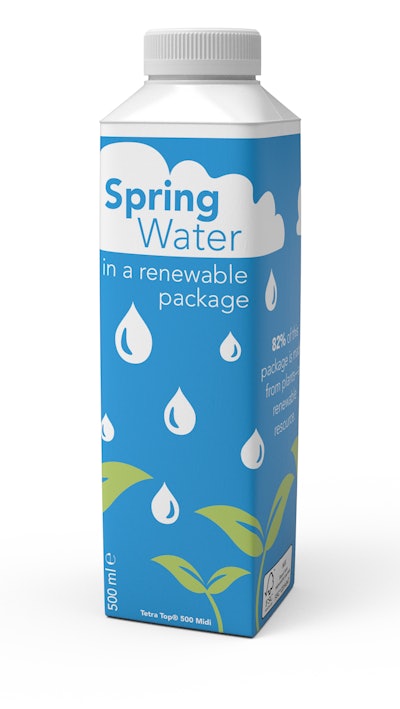 While the end of a package's life is important, Tetra Pak believes there is a big opportunity to expand thinking to include the entire product lifecycle. Its campaign, Moving To The Front, addresses this by inviting suppliers, manufacturers, brand owners, NGOs and others to expand attention from the middle and end of the packaging life cycle to the beginning, considering the raw materials and quantity of materials used in the creation of a package.
These considerations were included in the design of Tetra Pak's bottled water packaging and its most recent Tetra Top carton bottle. The top and cap made from high-density polyethylene (HDPE) derived from sugarcane. Combined with the FSC certified paperboard used in the main sleeve of the carton, this pushes its renewable content up from 53% to 82%.
Chris Gretchko, vice president of marketing for Tetra Pak U.S. and Canada, points out three benefits of boxed water. First, is sustainability. "Water is a natural resource and aligning the product with a sustainable package is resonating with people," she says. "Our cartons are a great fit here because they're made mainly from a renewable resource: paper sourced from well-managed forests where new trees are planted to replace harvested ones. Our solutions are designed with a 360-degree approach to reducing environmental impact, from our manufacturing process, which prioritizes water and energy conservation to our materials sourcing, which focuses on use of renewable materials, and on to recycling cartons at the end-of-life."
The second benefit is protection. People want to know what they're drinking and that it's safe. "The main role of a package is to protect what's within; together, the inside and outside of our cartons work to deliver the highest product quality and experience, before, during and after use," Gretchko states.
Finally, there's the benefit of convenience. "We're always thinking about how people use a product, so we design for convenience. Our Tetra Top and Tetra Prisma Aseptic cartons are lightweight and easy to drink from," she adds.
All of Tetra Pak's carton options for water—Tetra Prisma Aseptic, Tetra Brik Aseptic, and Tetra Top—are available in sizes ranging from 2.7ounce to 67 ounces. Depending on the carton package chosen, they will contain primarily paper as well as a combination of low-density polyethylene (LDPE), high-density polyethylene (HDPE) and a thin layer of aluminum.
"So many variables come into play when choosing product packaging," says Gretchko. "Overall, cartons are definitely competitive when it comes to cost. It's also vital to think beyond just the packaging, as cartons can provide reduced costs for beverage manufactures throughout their life cycle with reduced manufacturing and shipping costs."
Companies in this article