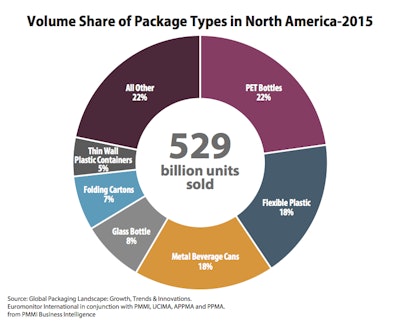 PET Bottles will see significant growth (2.6% CAGR) as continued interest in healthy lifestyle drives more consumers to bottled water. Currently, bottled water and carbonates account for 76% of PET Bottle packaging.

Plastic pouches will see a CAGR of 5.7%, adding nearly 2 billion units sold by 2020. Confectionary and processed fruits will drive growth in flexible pouches, offering convenience for on-the-go snacking.

While finding use in premium water offerings, metal beverage cans are predicted to lose some share due to the continued slow-down in carbonates consumption.

Euromonitor, who produced the study for PMMI Business Intelligence, compiles data points and qualitative analysis for 80 countries. Markets include Beauty and Personal Care, Beverages, Dog and Cat Food, Home Care and Packaged Food. Both primary and secondary retail packages are studied, including internet sales.

Source: PMMI Business Intelligence, Global Packaging Trends Report 2017, produced by Euromonitor and sponsored by leading packaging associations PMMI, Australian Packaging and Processing Machinery Association, Italian Manufacturers of Automatic Packing and Packaging Machinery, and the Processing & Packaging Machinery Trade Association.
Download the entire 95-page study here: www.pmmi.org/research/