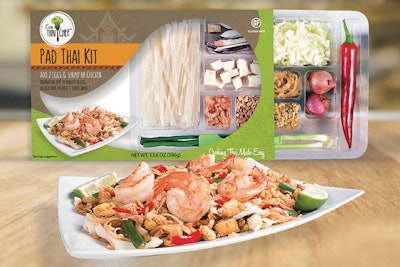 To meet consumers' demand for fresh, convenient, less processed foods, Easy Home Chef created Thai cooking kits that contain the often hard-to-find ingredients needed to home cook an authentic version of the cuisine.
Easy Thai Chef kits are packed with the fresh produce required for each recipe, and some of the shelf-stable ingredients imported directly from Thailand. The line's co-packer and produce supplier, John Vena, Inc., receives fresh product daily from a network of global suppliers. "This ensures that each Easy Thai Chef kit contains only the freshest and most authentic vegetables possible," says Martin Amada, founder/CEO/owner, Easy Home Chef. "John Vena's on-site SQF-certified production facility maintains strict quality control standards, individually inspecting all fresh produce prior to packing."
At the core of the Easy Home Chef concept are custom thermoformed, compartmentalized lidded trays, each designed for a specific recipe. Segmented sealing tools ensure that each cavity is heat sealed individually with the trays' lidding film, so no migration of ingredients can take place. The fresh produce, and, when possible, loose ingredients are placed directly into the tray cavities without any pre-bagging. "This keeps the amount of packaging used to a minimum, something ever more scrutinized by today's consumers," says Amada.
No gas flush is employed as the fresh produce needs to respire normally, and the shelf life of the products is estimated at eight days from packing when refrigerated, if no temperature abuse takes place. Because the design permits a view into 80% of the package contents, the kits are being marketed as natural additions in the produce and other refrigerated departments.
Preparation of the kits is made easy by including just the amount of each ingredient needed. The company's gluten and dairy free Easy Thai Chef line encompasses six recipes, but more lines are planned. "Asian and other ethnic kits will include fresh and whole ingredients, a concept that responds to a well-documented desire on the part of consumers to take an active interest in the origins and healthiness of what they eat," he says.
According to Amada, Easy Home Chef venture partners believe the kits present an opportunity for supermarkets to respond to fast-growing subscription-based models that are eating into their market share. "Future products will present opportunities for partnerships with producers of specialty sauces and other foods suitable for inclusion in kits, which can make sustainability claims that resonate with customers."