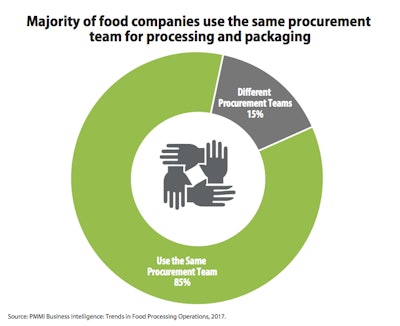 Eighty-five percent of the respondents reported sharing procurement duties, and 60% manage their packaging and processing operations with the same team. Combining the teams provides consistency throughout the manufacturing/packaging process, according to respondents. Even when combining buying duties, 40% of those studied still operate two separate departments, one for processing, one for packaging.

One process control engineer added, "Preventive maintenance is handled by the same engineering team for both processing and packaging, but production operations are run separately."

Departments or individuals involved in procurement include: Engineering (48%), Central Procurement (24%), Owner (10%), Operations director (5%), Production (5%), and Plant Manager (5%).
Source: PMMI Business Intelligence: Trends in Food Processing Operations, 2017.
Download the full report here