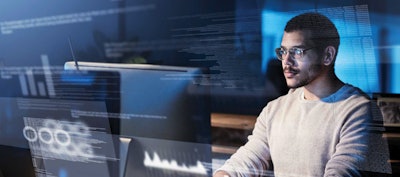 In 2015, General Mills introduced a gluten-free version of Cheerios. Although the oats used in the cereal are naturally gluten-free, there are many places in the supply chain and on the production line where the grain can be contaminated by wheat, rye or barley. To solve this problem, General Mills took a multipronged approach to ensuring oat authenticity from the farmers' bins to the consumers' bowls.
During the development of a mechanical sorting system to separate the oats from the other grains, it became clear that this new go-to-market strategy could also be the perfect pilot project to test out the technologies and open platforms being developed by the Smart Manufacturing Leadership Coalition (SMLC). SMLC is a non-profit organization focusing on the creation of a collaborative business model to lower costs, share precompetitive practices and technologies, and facilitate innovation through value-added processes.
SMLC's interoperable model depends on the ability to network and share data across disparate systems in the plant as well as the supply chain. And that requires the digitization of data—otherwise known as the digital factory.
The digital factory concept has taken hold in discrete industries such as automotive and aerospace to close the loop between product design and production. The goal is to improve quality and productivity—eliminating as much waste as possible in the process—by connecting the digital dots. That's done by tying together computer-aided design (CAD) models with manufacturing work cells while incorporating a digital twin to virtually simulate how it will all work before investing in the physical model.
To date, the sharing of digital data has not been entirely embraced by the food and beverage industry. That's mainly because CAD, scheduling and manufacturing tools are typically used for designing and building finished goods on an assembly line, like a car. What's not evident is how the digital factory model can be applied to creating a recipe and blending a batch.
"There is a need for exactness in discrete manufacturing that doesn't necessarily transmit to food and beverage," says Sean Riley, global industry director of manufacturing and transportation at Software AG, an enterprise architecture company that offers a digital business platform (DBP).
There hasn't been much pressure on food and beverage companies to change their processes and invest in new technology—until now.
General Mills, like other food manufacturers, must respond to the consumer megatrends that are shaping the future of food. According to a recent PMMI report, "2017 Trends in Food Processing Operations," consumers want to know where their food ingredients come from, given the discovery of new allergies and a rise in demand for organic food. In addition, local sourcing and on-the-go eating will change the way people purchase food in the future, which means manufacturing must change, too. Specifically, processors will need to reformulate some products, resulting in more SKUs and perhaps smaller batches. It will also require flexible machinery that can switch over lines as needed.
More than half of food manufacturers use customized equipment and look to the OEM for integration, according to "2017 Trends in Food Processing Operations."​
Tying everything together in an invisible digital thread is the next step for the food and beverage industry. The industry can learn from their discrete counterparts because, although recipes are very different from CAD models, the principles of improving productivity, sustainability, flexibility and cutting costs are the same.
Batch manufacturing has a similar use case to discrete, says Greg Schmidt, information solutions sales executive at Rockwell Automation. "But it is less about design and more about downloading from business systems faster, less time in changeover and higher-quality yield," he says. "Making the right product the first time."
Getting it right is important to General Mills, which had to recall 1.8 million boxes of gluten-free Cheerios in October 2015 after wheat was inadvertently introduced into its gluten-free oat flour system at a California plant. According to the company, it was purely a human error and was narrowed down quickly.
But to ensure there is no contamination in the future and to meet consumers' needs for natural ingredients, there is momentum to create more visibility from field-to-fork within the organization. "We need to have open and transparent data and information across the entire supply chain," says Jim Wetzel, director of global reliability at General Mills and SMLC's chairman.
General Mills needs to understand the quality of incoming material to create the right set of conditions in the plant that optimize processes to avoid high waste from a super-fine filter system, or risk of contamination if it is set up too loosely. It's a constant balancing act, Wetzel says. To track the ingredients, the company, as part of an SMLC testbed, created a smart manufacturing platform that includes a cloud-based setup where data flows between the factory, mills and transportation systems. "We've not integrated to the farmer yet, but that is the next step," Wetzel says.
The road to digitization
The supply chain is a good place to start the digitization process. A report from Siemens released last month titled "Connected Food and Beverage, Unlocking the Benefits of Digitalization," reveals that some food and beverage companies are well on their way to digitization—or "digitalization" as Siemens refers to it. Fifty percent of the 40 U.S. food and beverage manufacturers surveyed by Siemens have adopted sensors, cloud computing and even additive manufacturing. Almost 60 percent use the Internet of Things (IoT) to track and trace ingredients through the supply chain to prove their provenance. And 67 percent are encouraging their suppliers to provide them with data from their own operations and production processes.
But less than half of the survey respondents are taking advantage of advanced analytics and the majority of firms collect less than 60 percent of data from their production processes, according to the report. The goal is to make most of the plant data available in a digital format to create a truly connected plant.
"Ten years ago, we were talking about connecting the shop floor to the top floor in terms of [exchanging] information," says Walter Staehle, Siemens' director of national and strategic accounts for food and beverage. "We are at the end of that cycle and now are into the speed cycle. And by that I mean getting new products to market."
Because of market dynamics, food manufacturers can no longer afford to react, Staehle says. They must plan and anticipate products, which means investing in capital and managing risk. They also must build flexibility into their production process.
"So now automation is not just about replacing labor and making the mechanical actions of machinery go faster, but it is tied into how to run a network of machines across several plants making the same product," Staehle says.
Here is where enterprise resource planning (ERP) software can help optimize scheduling. IFS, for example, offers a constraint-based scheduling module that adjusts production based on critical resources. Since there are more product SKUs—some of which are gluten-free—the IFS scheduling software with preventive maintenance can balance the schedule to avoid contamination on the line.
"It can optimize the schedule through the use of an advanced sequencing engine to make allergen-free stuff first on a clean line and then make products with peanuts and wheat at the end of the week," explains Travis Johnstone, regional account manager at IFS North America. The IFS portfolio is more than just ERP. The company has modular components in an integrated application suite that address everything from architecture to IoT to enable traceability across process models, providing quality data from the production or supply chain side. "It is a foundation to build your digital house upon," Johnstone says.
It is also important to be able to layer capabilities onto existing enterprise systems and operational assets, because rip and replace is bad for business. Software AG's integration toolset leverages an organization's existing apps and "automates the data," tying information together as part of a process model, enabling things like predictive maintenance through analytics at the edge of the network.
Rockwell's Schmidt agrees that the digital thread needs to run through the production operations for scheduling, traceability, equipment maintenance and quality control. "But that is assuming the network is capable of supporting this, which is a big assumption," he says.
The first step is to make sure the infrastructure is capable of sharing data. Some equipment might not be connected to Ethernet or perhaps the network was designed to be secure, which restricts the flow of data. "The network capability may be the giant gap here," Schmidt adds.
Even so, there are places within the plant that are primed for digitization—like in the lab.
Not so mad scientists
Dassault Systèmes, which offers digital factory technology in the form of design software, 3D modeling apps, simulation and collaboration, is taking its expertise to process production operations. The company has applied these programs to the consumer packaged goods (CPG) industry with its Perfect Package suite, enabling design, manufacturing, artwork and packaging suppliers to collaborate and interact to cut design time, reduce material costs and eliminate quality issues by using simulation to eliminate prototyping. Its Perfect Product applications include the ability to develop new formulations by predicting the behavior of ingredients, thereby reducing the amount of time needed with physical testing.
As part of the Perfect Product, Dassault's Biovia software addresses the science of product creation by modeling and simulating new substances at the atomic level. Traditionally used in life sciences, this technology can also be applied to food and beverage, company officials said. For example, say a food or beverage product has new elements in the form of raw materials or preservatives, which could change the dynamics of the product. These new parameters must be defined to understand the science of the process and the predictability of the models.
One way to define and predict process models is through electronic lab notebooks (ELNs), which are used by scientists and engineers to document research, experiments and procedures and create a correlation between physical and virtual worlds. One manufacturer that cannot be named is using the Dassault technology to predict the outcome of flavors, tweaking raw materials in a formula to figure out what it will taste like in the physical world.
"It eliminates trial and error," says Ray Wodar, industry team business consultant at Dassault Systèmes. "Instead of trying a thousand permutations of flavor, let the computer do it overnight in the cloud and give you 10 variations to go to physical trial with."
On the opposite end of the spectrum—at the point of sale—manufacturers can use analytics to understand the feedback they get from social networks. Right now, the information might impact packaging more than product development, but the industry will soon be able to close the loop between the customer experience and research.
"Someone could say something controversial on Twitter and that could directly lead to a change in recipe," says Marc Mailman, a product manager for GE Digital's Brilliant Manufacturing. Leveraging GE's Predix platform for edge-to-cloud connectivity, a future scenario could include a customer communicating product quality on social media, which could be picked up by the Predix cloud, which then analyzes where the product was purchased to tie it back to the plant and the recipe used. "It could be an immediate feedback loop," Mailman says. "And we are getting close to that point. It is not decades away."
Data accountability
To Mailman's point, the technology to capture and connect data is available and is being used in the plant, the supply chain and even by the farmers who are leveraging sensors and IoT communication. Perhaps the biggest obstacle to overcome in the digital plant is data governance.
"The technical problems of connecting data have been solved," General Mills' Wetzel says. "The bigger problem has been our company's own governance of data and the comfort level of having information outside our doors."
Craig Edwards is field operations lead at IoT Impact Labs, tasked with commissioning IoT in the field. Here, he is setting up a system at a farm in Massachusetts.​
Chris Rezendes, managing director of IoT Impact Labs, agrees. IoT Impact Labs is dedicated to helping small and mid-sized businesses, including farmers and fishermen, instrument their physical world with sensors and IoT technology. The point is to identify "ground truth" for remote physical assets in the real world vs. testing a theory in a lab. The group has small pilot projects all around the world where their experts come in to outfit the physical assets with IoT technology—and then they get out of the way, Rezendes says, to let the data owners do their thing.
Take precision agriculture, for example. There are 2.4 million small agriculture producers in the U.S. and Canada that don't have IoT. It is not because of the technology investment, but because they don't want to give up their data. IoT Impact Labs is building digital co-ops to help farmers capture the data that really matters, manage it and, most importantly, retain ownership of it.
Hundreds of farmers in a co-op might agree to share data on water levels and quality, which might require deploying thousands of sensors to pull the data into a data bank. Now, they have fact-based real-time information giving them the ability to justify spending on services or manage risk better. But the big deal here is that it is secure and it is their data.
"It's all about the new rules of data governance in IoT," Rezendes says. "IoT solution providers and partners have to agree that the data is the property of the customer and you are just the custodian of it."
Indeed, there are new rules of engagement when it comes to the digital landscape. And even though there are pockets of innovation happening in the field, in the plant and throughout the supply chain, ultimately, it all has to be stitched together to close the digital loop.
"Companies have to invest in the holistic end-to-end digital thread from ideation to product development to manufacturing, and sourcing data from the consumer experience to feed back to the ideation process," Dassault's Wodar says. "Only those companies that invest to create that infrastructure will be the ones that will survive."