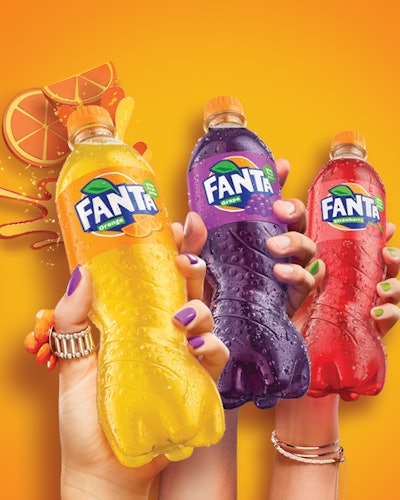 Fanta, the fourth-largest beverage brand in the world, is getting a new look, both inside and outside the bottle. The consumer-centered marketing approach includes a reduced-sugar recipe and a proprietary package with updated graphics and a twist.
"The new Fanta Spiral Bottle has been redesigned as an asymmetric PET bottle with a "twist" that delivers an eye-catching on-shelf display," says Pepe Serafin, global sparkling director, The Coca-Cola Company. "Additionally, a new logo, graphics, and color palette round out the new design."
The spiral design accounts for the pressure in a carbonated beverage bottle. With traditional PET bottles, Serafin says that as soon as there is a deformation, or a difference in strength of the PET plastic, sections become weak and they can pop out or deform. "The new spiral Fanta bottle isn't symmetrical at all. Inspired by the twisting of an orange to release the juice and flavor, it has a series of ribs, with a torsion in the bottom half."
Design agency Drink Works came up with the concept of incorporating the "twist" design. The new bottle also has an updated label, which has been moved further up towards the neck of the bottle to align with Coke and Sprite. "It has the added advantage of no longer being placed where shelves or stacking units cover it," says Serafin.
The bottle is currently sold in Italy, Poland, Malta, Serbia, Finland, and Romania, with plans to expand production globally in the coming months. The new bottles have been on shelves in Great Britain since April. At this time, there are no plans to launch the bottle in the United States.
Serafin says that the Fanta Spiral Bottle was tested in a several markets in 2016, including Italy, where the bottle was awarded the 2017 Product of the Year in the Sparkling Beverage Category.