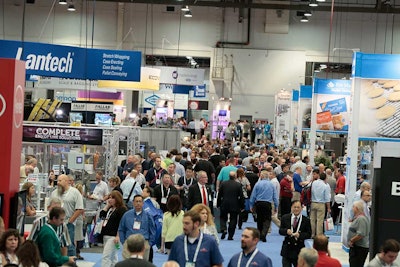 There's more to Las Vegas than its premier casinos and spectacular shows. This year, Sin City will be home to PACK EXPO Las Vegas 2017, one of the largest packaging events in North America. Produced by PMMI, The Association for Packaging and Processing Technologies, PACK EXPO Las Vegas will tackle sustainability, efficiency and product safety as well as showcase the latest packaging technology Sept. 25-27 at the Las Vegas Convention Center — providing inspiration and solutions that will give attendees a competitive edge.
Over 30,000 packaging professionals are expected to attend PACK EXPO Las Vegas, which is co-located with Healthcare Packaging EXPO. PACK EXPO Las Vegas will feature more than 2,000 exhibitors, educational sessions that explore industry trends and networking opportunities to connect with experts.
Attendees will get a chance to rub elbows with top-tier suppliers of advanced packaging equipment, materials, containers, automation technology and more. From global providers to regional, fast-growing companies, many exhibiting companies will have full-scale equipment in action and in-booth demonstrations that will help attendees understand the products in depth and help them make better buying decisions. For example, attendees will get a chance to see how active products are tested under stable conditions by MG America, Inc. Sonoco Alloyd will demonstrate how a deliberate, systemic approach to thermoform plastic and print packaging can optimize the manufacturing environment and save money. And CPS Case Packing Systems will show attendees how to use its CLP packer to pack more frozen food products.
PACK EXPO Las Vegas will also include three pavilions. Brand managers and designers should check out the Containers and Materials Pavilion. It will feature paperboard, glass, metal, plastic, flexible and resealable packaging; state-of-the-art labeling and decorating technologies; innovative containers; and sustainable choices. The Containers and Materials Pavilion will also include the Showcase of Packaging Innovations. It will spotlight award-nominated packaging solutions that use breakthrough technology to address consumer demands.
At the Reusable Packaging Pavilion, attendees will learn how to incorporate reusables into their supply chain to reduce waste, cut costs and gain supply chain efficiency. More than 30 industry-leading companies will share the latest reusable packaging products and services for sustainable business operations.
Candy and snack producers should head to the Confectionery Pavilion. There they will find the newest trends and technologies related to aeration, batch refining, shaping, cluster production, cooling conveyors, easy-open packaging, enrobers, resealables, portion control and other industry-specific solutions.
Attendees will also have access to educational programs on the show floor. These free 30-minute seminars on the Innovation Stage will cover technological breakthroughs, innovative applications and proven techniques from industry experts.
For those who want to take a break from the hustle and bustle of the show floor, PACK EXPO Las Vegas will have three industry-specific lounges where attendees can relax: the Beverage Cooler Lounge, Baking and Snack Break Lounge, and Candy Bar Lounge. These lounges offer opportunities to network with peers or just rest and recharge.
Attendees will get another chance to unwind at a reception followed by a concert featuring the Grammy award-winning band The Doobie Brothers on Sept. 25. Part of the proceeds from this annual benefit concert will go toward the PACK EXPO Scholarship, which provides grants to U.S. and Canadian colleges with packaging and processing programs.
Given the plethora of activities at PACK EXPO Las Vegas, attendees may want to download the free PACK EXPO Las Vegas app to organize their schedules. The app features the "My Show" tool, which allows users to create a personal itinerary for navigating the show. Users simply click on an exhibitor or session listing and add it to their schedules along with their personal events. App users can find exhibitors by name, keyword, vertical markets or categories. They can also search educational sessions by venue or topic. In addition, the app includes interactive floor plans, exhibitor messages and reminders, shuttle schedules, frequently asked questions, and news and notifications. The app will be available to download in the summer from the App Store and Google Play.
Registration is $30 until Sept. 1. That includes access to both PACK EXPO Las Vegas and Healthcare Packaging EXPO. After Sept. 1, the registration price increases to $100. For more information and to register online, please visit www.packexpolasvegas.com.
Companies in this article