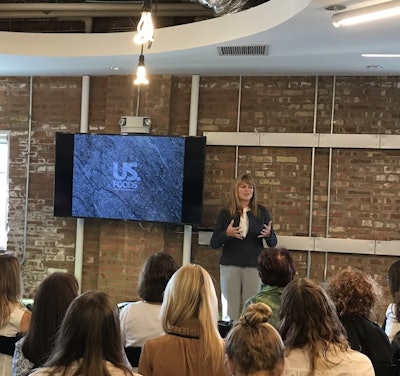 Innovative product development is "more art than science," says Stacie Sopinka. She should know. With degrees in economics and the culinary arts, Sopinka has spent the last 20 years developing food and beverage products for manufacturers domestically and overseas. Today she puts that vast industry know-how to work as vice president of innovation and product development at US Foods. Since joining the Rosemont, Illinois-based distribution giant in 2011, Sopinka and her team have developed more than 450 products for restaurants, universities and other foodservice operators — and 80 percent are still in the market. At a recent breakfast hosted by the Chicagoland Food & Beverage Network, Sopinka shared the hard-won lessons she has learned during her long career that now serve as the foundation for product innovation at US Foods.
1. Create a long-term strategy and identify key drivers.
Sopinka recommends product-development teams craft a development strategy that not only aligns with their companies' mission and vision, but also meshes with the strongest societal levers that influence the foodservice industry.
For example, as one of the largest generations in history move into their prime spending years, millennials are poised to impact the economy — and foodservice. US Foods' product development team focuses on how to cater to this influential demographic. "Data recently came out that said millennials eat 28 percent of their meals on premise. So they are big fans of home delivery," Sopinka explained. "That's going to completely change independent restaurants. We're thinking about how do we service them? We've already had quite a bit of success with retail-type point-of-sale products in restaurants. So that's something new. So we're trying to think about how that works. So our long-term strategy begins with the common framework of what our priorities are."
2. Form strategic partnerships and build trust.
US Foods prefers to build long-term relationships with its suppliers and other vendors. It allows them to work together to develop high-quality, inventive products that take advantage of the vendors' capabilities and strengths. Cultivating trust with these vendors is crucial in order to evaluate and refine concepts and processes, according to Sopinka.
"Just like any relationship, you're going to hit hurdles," she said. "But it's about building trust and transparency. Having the post-mortems. Having those tough talks about what worked and what didn't work. … It's been a very strong [tactic] for us. They have our backs."
3. Determine your target market and know when to jump on a trend.
US Foods predicts food trends based on the menu adoption cycle from market researcher Datassential: inception, adoption, proliferation and ubiquity. It also keeps in mind that its end user is mainstream Americans, who say they crave ethnic cuisines and bold flavors, but may not be as adventurous as they say they are. For example, US Foods found success with products like the Nashville staple hot chicken and Kouign Amann Breton cake. But when it built products around gochujang, a Korean red chili paste, a few years ago, those items failed to connect with consumers despite the popularity of Asian flavors like sriracha in recent years.
"We know our sweet spot is between adoption and proliferation because our target is midtier bars and grills," Sopinka said. "So we don't want to be too ahead of the curve. We launched gochujang about three years ago, and it was too early for our target market."
4. Take calculated risks.
Spotting food trends early in their life cycles, and developing and launching innovative yet cost-effective and accessible products based on those trends are not easy. But US Foods tempers the risk with a few contingencies. In addition to using the Datassentials menu adoption cycle as one of its tools, each new product undergoes scrutiny at every stage gate in its development cycle with a cross-functional team at the company rather than third-party focus groups. For example, before US Foods successfully launched its Cross Valley Farms riced cauliflower nationwide, the team suggested introducing the product to a small cross-section of its customers to determine if it indeed would resonate with consumer demands for healthy, low-carb foods.
"They are an essential part of the development process because you have to have a yin and a yang. You have to have the young millennials pushing the boundaries, and you have to have people that are saying, 'Hang on a second. This only has a 12-day shelf life. How are we going to distribute that?'" Sopinka explained. "We call it healthy conflict. It's essential to the new development process to have that diversity of opinion."
5. Move quickly or get left behind.
The 24-hour news cycle and immediacy of social media means that food trends can become popular quickly, according to Sopinka. Therefore, food and beverage companies must be agile and nimble when creating innovative products. US Foods spends an average of seven months developing a product.
"Trend cycles are moving very quickly," Sopinka said. "And if you take your sweet time and are slow to develop, you're going to be redundant by the time you come out. So you need to be fast."
6. Engage key stakeholders in the process and remain open to feedback.
Beyond working with its vendors and various team members across the company, US Foods likes to partner with others in the food and beverage industry that bring diverse viewpoints and insights into its product-development process. For example, the company recently collaborated with celebrity chef Marcus Samuelsson to develop six products inspired by the chef's global heritage and cuisine, including a corn muffin with Aleppo pepper. "Just partnering with different people who have different perspectives can influence your development process," Sopinka said.
"We have a saying at US Foods: Feedback is a gift. And it truly is," she added. "It does tend to slow you down and make things more complicated, but it also forces you to have that reality check and anticipate problems."
7. Avoid design by committee.
While Sopinka values feedback, she won't let it alter the vision she and her team have for a product unless data and other relevant information say otherwise.
"We lose our way sometimes when we get too many voices in," Sopinka said.
8. Identify the problem you are solving.
Because the food and beverage space is saturated with many of the same products, Sopinka always develops new products that can solve problems for customers as a competitive point of differentiation. For example, she developed the Rykoff Sexton Bloody Mary Mix because there weren't very many fresh, natural and vegan Bloody Mary mixes in the market at the time.
"Start with a scope and understand why you're developing this product," Sopinka said. "We carry 350,000 SKUs. Does the world really need one more product? So you have to figure out what place this product has in that ecosystem?"
9. Tell the story of a product's provenance.
As more people become passionate about food, they are interested in how products are made and their origins. For example, the sales team at US Foods often talks about the origins of and high-quality ingredients in its Kouign Amann cake, Brittany's prized pastry.
"Telling that story is part of the engagement we have," Sopinka said. "We always get told, 'Tell us the story. We want to know how you developed it and why.'"
10. Be prepared for Murphy's Law.
The aggravating tenet of Murphy's Law declares whatever can go wrong will go wrong. This idiom is particularly true in product development, according to Sopinka. But the best product developers are resilient. They know how to contend with forces outside of their control, such as crop failures and rising commodity costs, and adjust accordingly.
"Product development is full of pitfalls," Sopinka said. "You have to have thick skin not only to sell your ideas internally, but to absorb when things go wrong and regroup the team and push on."