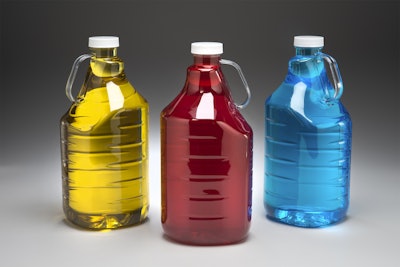 Creating a PET container with an integrated handle is easier said than done. But Pretium Packaging and Practically Impossible Labs have done just that. The companies just launched the SureHandle PET container that they say will be stronger and more eco-friendly than traditional PET bottles while offering shelf differentiation and handling convenience for consumers.
The 64-oz., 38-400-mm container combines preform technology developed by Practically Impossible Labs, a plastic bottle engineering company, and injection- and blow-molding expertise from Pretium, a manufacturer of plastic containers and closures. The manufacturing process begins with the preform, which is structurally different than traditional straight-sided, injection-molded preforms used to blow-mold PET containers. The SureHandle preform features an injection-molded handle attached to the side wall.
The integrated-handle preform is loaded in the same manner as a conventional preform. Proprietary enhancements have been made to standard blow cavities to accept and position the handle during the blowing process. Because no secondary operation is required to add the handle to the container, the end result is increased structural integrity.
The increased strength and impact resistance of the SureHandle means the container has enhanced top-load capabilities. Instead of using a corrugated case, manufacturers can use a shrink-wrapped tray pack to stack the containers five layers to a pallet and four pallets high. Using a tray pack can potentially reduce secondary packaging costs by up to 80 percent, according to Pretium.
"Because there is a disproportionate amount of weight in the top third of the bottle where the handle is, the bottle has very, very good top-load strength," says Barry Sak, vice president of business development at Pretium Packaging. "So to ship the filled SureHandle, companies will not necessarily need a full corrugated carton."
The integrated handle also addresses sustainability issues. Traditional PET bottles usually have handles manufactured separately with a different material and then later inserted on to the containers. Those handles need to be removed prior to recycling the PET bottles. Because the SureHandle is made solely of PET, it facilitates recycling without having to remove the handle or any other preparation.
The SureHandle also offers marketing opportunities, according to Pretium. Food and beverage companies can promote the ergonomics of the integrated handle. Sak says the handle is more comfortable for young children, older adults and people with disabilities to carry and pour from as compared to a PET bottle with a pinch grip or straight sides.
In addition, the clear container allows companies to showcase their products to consumers. Pretium says that the SureHandle is ideally suited for dressings, edible oils, sauces, marinades, cold-pressed juices, ready-to-drink teas, sports drinks and cold-brew coffees. "When the bottle is filled with an appealing colored product, it certainly shows much nicer than let's say a high-density container, which is a kind of cloudy material," Sak explains.
Companies in this article