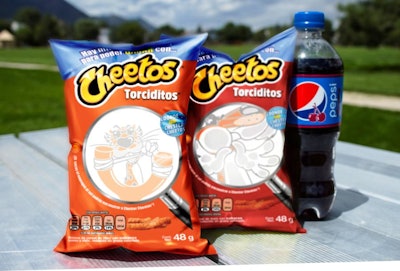 Chester Cheetah, mascot for Frito-Lay's Cheetos brand recently had his day in the sun, with PepsiCo Mexico's Where is Chester? promotion, which featured sunlight-activated bags that revealed the mischievous cat in 16 poses. From a technical perspective, the promotion is believed to be the largest commercialization and distribution of photochromic technology for a major CPG brand to date, anywhere in the world. That's according to Chromatic Technologies Inc., which formulated the light-sensitive inks for the project.
In 2015, CTI worked on a project with Frito-Lay in the United States for its Lay's brand that used photochromic ink on the chip bags. The promotion was so successful, it captured the attention of the Cheetos brand marketing team in Mexico, which wanted to do something bigger and more interactive. The Where is Chester? Cheetos bag was distributed nationwide and featured the product logo at the top and the image of a large magnifying glass below, with a white center. When the bag was exposed to sunlight, Chester appeared.
The promotion, which ran from Aug. 5 to Oct. 13, 2017, featured Chester in 16 different "poses," across several Cheetos portfolios: Torciditos, Poff, Flamin' Hot, Nacho, Bolitas, Colmillos, and Popcorn. Coupons inside the bag allowed consumers to redeem points toward prizes such as Chester footwear, Chester clothing, and a Chester selfie stick.
For the Chester character, CTI custom-developed orange and charcoal-colored photochromic inks, which were first qualified with the converter, American Poly del Norte (+52 81 8158 6550) of Mexico, and then used in the production run. According to New Launch Leader for CTI, Barry R. McCann, using photochromic inks in the flexo-printing process is, "for the most part," seamless. "Converters do need to follow best practices for avoiding contamination, since these specialty inks can be affected by strong solvents and even color contamination from nearby standard inks," he said.
Reports CTI, "Response to the Cheetos promotion was met with interest and enthusiasm, as several fan-generated YouTube videos showing how to activate the hidden images and find game pieces and prizes showed."
Companies in this article