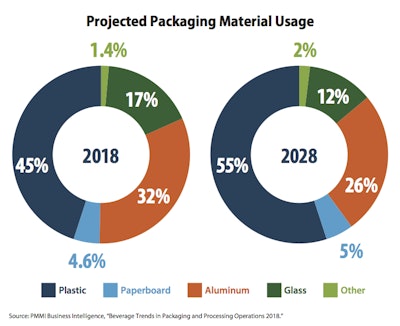 95% of plastic containers are bottles. Pouches account for the majority of the remaining 5%.
Aluminum is mainly used in can containers with a small fraction used as bottles.
Glass material is used exclusively for bottle production.
Paperboard, an outlier, has a few diverse uses including gabletop cartons, aseptic cartons, and bag-in-a-box constructions.
Aseptic cartons are expected to have a 75% growth over the next 10 years, going from a 3% to 4.4% market share by 2028. In 2016 aseptic cartons counted 7.1 billion units.
Bag-in-a-box will also continue to grow from 200M units in 2016 to 300M in 2018, and up to 500M in 2028, though holding a smaller total market share of 0.2% by 2028.
According to the report, Gabletop cartons, aluminum cans and glass bottles are all expected to have a declining market share by 2028, though aluminum cans and glass bottles will maintain their current volume of 90 billion units and 26 billion units, respectively. Aluminum can market share will drop from 33% to 28% by 2028, while glass bottles will drop from a 9.6% to 8% market share during the same period.
For more details about beverage trends and growth, download the report's FREE Executive Summary, or the full report here.
Discover new solutions for Food and Beverage Processing at ProFood Live! June 20-21 in Chicago, with discussions about trends in food processing operations; addressing today's crucial challenges in manufacturing; and much more!
Source: PMMI Business Intelligence, "Beverage Trends in Packaging and Processing Operations 2018."