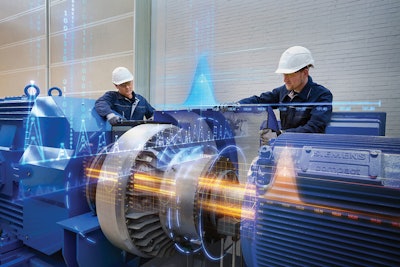 Energy makes up 80 percent of the cost of owning and operating a motor over its lifespan. That's why motor makers have spent decades trying to build ever more energy-efficient designs. But with standard motors already achieving 96.7 percent efficiency, current technology might be reaching its limits.
Some motor manufacturers say it's impractical to continue making significant design investments in motors if the resulting price increases will outweigh any small efficiency gains. Others are turning to tools, both old and new, that can give motors a helping hand.
Efficient at varying speeds or loads
No matter how efficient a standard induction motor is rated, most users realize that actual energy performance can vary greatly depending on the application. "An induction motor's efficiency decreases as speed and/or load is reduced," explains Oscar Palafox, product and R&D manager for Siemens low-voltage motors.
HVAC systems, whose operating requirements vary depending on whether it's day or night, or production lines where load and speed change frequently, are two typical applications where the efficiency delivered could be less than what the rating promises.
To deal with these situations, Siemens has introduced synchronous reluctance motors, which the company says can reduce energy usage by up to 70 percent. "At 100 percent speed and load, synchronous reluctance motors are slightly more efficient than induction motors," Palafox says. "But because they maintain that high efficiency through most of the speed range, they achieve substantially better results in variable-speed applications."
The motors fill a gap between standard induction motors and more expensive permanent magnet motors, according to Rich Mintz, Siemens' marketing manager for large motors. Synchronous reluctance motors work in tandem with a variable-frequency drive to achieve the most efficient drive train performance.
"You need to look at the entire drive system for efficiencies, rather than just a single component," Mintz adds. "If motors are inexpensive, people don't think they need to monitor them. But you need to look at the bigger picture. It's not just the cost of a motor; it's the cost of unplanned downtime that you have to calculate."
This trend toward measuring the efficiency of the entire system, which began in Europe, starts with the motor and drive, but extends out to the driven equipment. While typical efficiency standards for motors calculate efficiency at a fixed speed and load, the European standard provides ways to determine the efficiency of a system at various speed and load values.
Data produced by the drive system can be a powerful tool for optimizing machine performance. "Digital simulation tests allow you to understand the implications of equipment performance changes," Mintz says. "By creating a digital twin of what's working on the factory floor, you can determine how motors will react to variations in their operating conditions. This can teach you how to improve the system before actually making any physical changes."
Digitalization is the foundation for the Industrial Internet of Things (IIoT), a trend with the potential to change how equipment and their motors are monitored and operated. "By installing a digital backbone," says Ryan Maynus, product manager for Siemens medium-voltage motors, "companies can gain real-time visibility into machine health and the small variations that, over time, can have a big impact on uptime, productivity, safety and other performance factors."
To help with this effort, Siemens has created MindSphere, a cloud platform for industry that provides a secure environment for data analytics and connectivity capabilities, tools for developers, applications and services. It is designed to help evaluate and use data to gain insights that can drive asset performance and optimization.
Seeking IE4 efficiencies
The goal of motor development efforts is to reduce total cost of ownership for customers by improving energy efficiency and product and process reliability, says Michael Offik, general product manager, variable-speed motors, for ABB's Baldor Electric Co.
Baldor plans to introduce the ABB Ability smart sensor this quarter to the U.S. market. This will enhance motor and process reliability with both IEC and NEMA motors. In addition, Baldor continues to improve motor efficiencies above the NEMA premium level.
"Our RPM XE, or eXtreme Efficient motor, for example, is ideally suited for across-the-line centrifugal pump applications and delivers IE4 levels of efficiency vs. NEMA premium IE3," Offik says. The motors are now available from stock in 10-100 HP ratings and can be used as a drop-in replacement for a traditional NEMA premium motor. The RPM XE combines a rotor cage and permanent magnets to allow for across-the-line operation with the efficiency benefits of a permanent magnet rotor motor.
Baldor is also introducing a line of smaller electrically commutated (EC) motors called EC Gold. They will be available in first quarter 2018 and are designed to achieve IE4 or better efficiencies when used with a drive. They are typically smaller and lighter than their induction counterparts.
"All these new motor products help engineers with lower lifecycle costs," Offik adds. "They are more efficient, use less power and run cooler. This allows the motor to last longer while using less energy."
Though most motors used in the U.S. now meet NEMA premium or IE3 levels of efficiency, many customers continue to look for ways to further reduce energy consumption. "As an example, most facilities are now using more drives on variable torque applications," Offik says. "Engineers can apply the RPM XE on an adjustable-speed drive and have the benefits of higher motor efficiency as well as those of adding a drive. In many cases, they may even be able to use a smaller drive since the RPM XE uses less amps for the same power output due to its higher efficiency."
The ABB Ability smart sensor for low-voltage motors, mentioned earlier in this article, is another tool to help customers lower energy costs, Offik says. It differs from the traditional condition monitoring approach of attaching several vibration and temperature probes to a motor and taking a measurement once a quarter or once a month.
"The smart sensor is attached to the motor and present for several years, taking frequent readings that are periodically collected by smartphone or tablet," he explains. "The resulting data can be viewed and analyzed on a dedicated web portal. This helps plants increase their uptime and extend their motor life by monitoring key motor parameters and then analyzing that information based on our years of motor design experience. Being able to know the condition of a motor and identify potential issues prior to costly downtime or equipment failure helps keep production lines running."
More options, better performance
Lenze introduced three motors in November 2017, each designed for specialized applications: the g350 geared motor, the m550-P induction motor and the m850 series servo motor.
"The g350 specifically targets conveyor manufacturers looking for small form factor and flexibility, while using energy as intelligently as possible," explains electromechanical product manager Alby King. "It can be easily stocked and configured both on the shop floor and by the end user."
Lenze's goal with the new model was to simplify and optimize geared motors for conveyor applications, according to King. "It marries our proven Smart Motor with a very small-form-factor, single-stage, right-angle gearbox. Easily programmed, it includes five available preset speeds and up to 20 programmable seconds of acceleration and deceleration," he says. "With 400 percent starting torque available, there's no need to oversize, enabling a significantly smaller motor to mirror real conveyor motion demands. This contributes to lower initial costs and overall operating costs."
The m550-P addresses current IE3/NEMA premium induction motor efficiency legislation and is roughly the same size as the motor it replaces. "In fact, in some frame sizes the actual size is reduced compared to the outgoing IE2/high-efficiency version," King says. This motor can be equipped with many standard options, including brakes, feedback devices and external cooling.
The Lenze m850 is a new addition to the company's synchronous servo motor portfolio, which has been focused on high dynamic performance. "This medium-dynamic servo motor is designed for positioning, robotics, packaging and handling, and is targeted at the roughly 70 percent of the market that doesn't require high dynamic response," King explains. "Its compact design offers a lower-cost option with increased controllability due to greater inertia."
Avoiding collisions
Software continues to be an important tool for motor makers working to improve equipment performance. Beckhoff Automation, for example, has introduced TwinCAT motor collision avoidance technology as an add-on library for its PC-based TwinCAT 3 engineering and run-time software for servo motor systems.
"This is a convenient additional benefit for rotary servo motors, preventing collisions when operating a number of motion axes with TwinCAT 3 NC PTP," explains Matt Prellwitz, drive technology application specialist for Beckhoff. "The software package is used to create a working distance between two axes on the same mechanical plane like a rack and pinion system, and to gain optimal position from one location to another. If the path is blocked by the other axis when the motion path is cleared, the positional move is completed. It actively prevents collisions when a number of motors are working to move work pieces and mechanical components in tandem."
Function blocks, which are defined by the PLCopen standards committee, allow collision avoidance technology to be entered into motion control projects without having to directly program them. "This functionality avoids damage to mechanical equipment and minimizes downtime and errors," Prellwitz says.
"In motion systems that have collision avoidance," he adds, "the EtherCAT industrial Ethernet system can be used to implement deterministic scans of rotary motor positions and report back the position of each axis. The system can then precisely configure the number of rotary axes and the gap distances between them. Users can set this up using the actual motors or work in a simulation mode in TwinCAT software."
Companies in this article