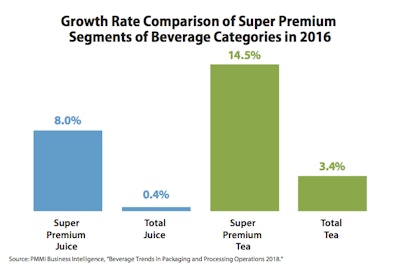 The interest in organic and natural ingredients is rapidly increasing and not expected to decline, according to Beverage Trends in Packaging and Processing Operations by PMMI Business Intelligence.
Tea represents one example of the natural and healthy trend, and while tea made from actual tea leaves is more desirable than concentrate, it requires new equipment and processes that some large beverage companies can't accommodate due to space constraints. Much of the new beverage tea production is given to co-packers that are building not only new lines, but entire new facilities to handle this volume.
A production manager at a large CSD beverage company who participated in the study says, "The trend toward tea is big. We are working with co-packers to build three new facilities across the country to make our tea. Tea extraction is a complicated process, and we are investing significantly into Kneader tea processing equipment."
Juices that have gone through high-pressure processing (HPP) are also expected to be increasingly popular. HPP is a key technology that beverage companies use to provide juices and other beverages without having to undergo pasteurization. Pasteurization is known to have a detrimental effect on both taste and nutrition, while HPP keeps them both intact. (To learn more about HPP, visit the Cold Pressure Council, managed by PMMI, and the CPC Annual Conference on June 18-20 in Chicago.)
While many small and large beverage manufacturers are racing to expand premium tea sales, the movement into HPP juices by larger beverage companies is met with more caution due to the higher cost of the pressurizing equipment, so large companies often enter this market by making investments into smaller companies.
According to the report, one commercialization manager at a large CSD beverage company says, "HPP will be really big – Starbucks does this with Evolution Fresh. These premium products will get a lot of traction, but not many people are doing this. We don't do this yet as HPP requires too much investment in capital equipment. We cannot use our traditional infrastructure with this. So, we bought a minority stake in a smaller juice company and we provide distribution for them just so we can be in the market."
For more details about beverage trends and growth, download the FREE Executive Summary or the full report here.
Discover new solutions for Food and Beverage Processing at ProFood Live! June 20-21 in Chicago, with discussions about trends in food processing operations; addressing today's crucial challenges in manufacturing; and much more!
Source: PMMI Business Intelligence, "Beverage Trends in Packaging and Processing Operations 2018."