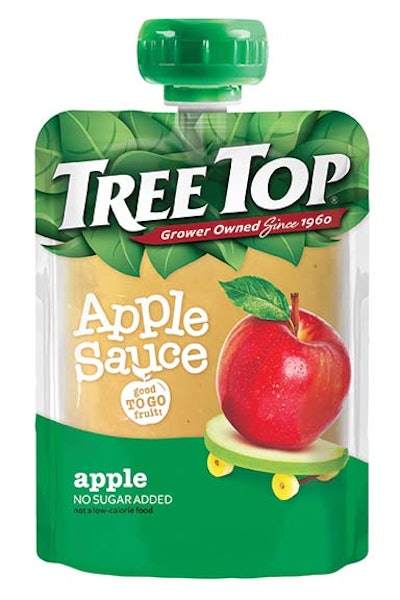 Consumers are seeing Tree Top applesauce a bit more clearly now. The grower-owned cooperative recently launched its applesauce snacks in clear, stand-up pouches that ensure the health and safety of its products while building trust with consumers.
Sela, Washington-based Tree Top, which makes a variety of fruit snacks and beverages, introduced the see-through packaging in early 2018, claiming that it is the first transparent pouch in the applesauce category. The launch comes on the heels of voluntary recalls from Mott's in 2017 and GoGo squeeZ in 2016 when consumers found mold in their applesauce, which Mott's and GoGo squeeZ package in foil-lined pouches. While Tree Top has not had a recall on its applesauce products, the company switched to clear pouches from foil-lined pouches so consumers could see the freshness of the products in the packaging before buying and eating them, offering a point of differentiation on the retail shelf.
"We decided to switch to a clear pouch because we want to be transparent with our consumer. We want to show them that the products that we're packaging are safe and healthy and quality," says Andy Juarez, director of engineering at Tree Top. "With having a clear pouch, they're able to see that firsthand and know they're giving something to their children that they can physically see that's safe and looks how it should."
The Tree Top clear pouches are made from a film called ClearGuard, a high-barrier flexible packaging technology from Sonoco. The film features three-ply adhesive lamination of polyethylene and two layers of PET. It delivers comparable shelf life, vitamin C retention and barrier properties as the previous foil-lined pouches Tree Top used, which Sonoco also provided. The clear pouches have oxygen barrier and moisture vapor transmission rates of <.022 cc/100 sq. in. The film is rotogravure printed in eight colors.
Tree Top not only chose the ClearGuard packaging because it functions similarly to its previous packaging, but also because it is compatible with its existing Mespack H-360 FEQ horizontal form/fill/seal equipment, which produces up to 200 packages per minute. Mounted to an unwinder, the roll of film is pulled over a forming plough, which guides the film, folds it in half and forms the bottom gusset before the sharp corners are rounded off via die cutting. Then the sides and gusset are heat sealed and then cold sealed. The formed pouches are cut into four individual pouches. They move into a carrier system that opens the mouth and gusset of each pouch for hot filling.
After the individual pouches are hot-filled with applesauce heated to 180°F, they move to the top-spout insertion stage. Four pre-assembled cap spouts made of injection-molded polyethylene from Menshen Packaging USA, Inc. are inserted into the four individual pouches and sealed. The pouches then go through a heat tunnel and cooling tunnel equipped with heat and cool bars to reinforce the seals.
Tree Top uses the 3.2-oz, BPA-free pouches for its six flavors of applesauce: apple, cinnamon, strawberry, mango and mixed berry. Consumers can purchase them in 12- and four-count boxes in retail stores in the western United States.
"This new pouch mirrors our corporate belief in transparency, honesty and trust. Everyone deserves good food, and we developed the new clear pouches to return power to the people by allowing them to see our quality product before consuming it," says Tom Hurson, Tree Top president and CEO. "We want everyone to have a great experience with our fruit products, and it's nice to bring a little more clarity and goodness to the world of food."
Companies in this article