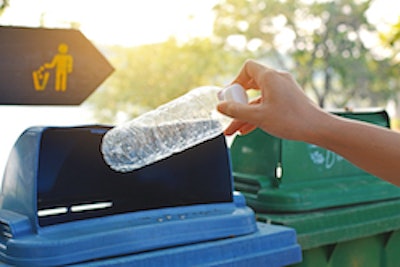 PET plastic often does not get recycled and ends up in landfills or out in the ocean. Only about 10 states have financially incentivized recycling programs called "bottle bills."
Furthermore, PET traditionally does not recycle very well back into new PET beverage packaging. Because PET's chemical structure is altered during the traditional recycling process, it becomes cloudy making it an unattractive solution for beverages.
To address these concerns, Beverage Trends reports that a PET material supplier has developed a new PET recycling machine that can make 100% recycled PET plastic bottles that retain the same clarity and material properties as virgin resin. The injection compression machine makes pre-forms from recycled resin and was presented to the beverage packaging community in June 2017.
One Director of Engineering at a PET supplier said, "Recycling PET normally uses a huge amount of energy and the recycling process negatively impacts the resin properties. This machine addresses both problems. The philosophy driving this is that it is better to re-use the plastic we already have rather than just keep making more plastic. Our oceans are flooded with plastic and we need to do something about this."
For more details about this and other beverage trends and growth, download the FREE Executive Summary or the full report here.
Discover new solutions for Food and Beverage Processing at ProFood Live! June 20-21 in Chicago, with discussions about trends in food processing operations; addressing today's crucial challenges in manufacturing; and much more!
Source: PMMI Business Intelligence, "Beverage Trends in Packaging and Processing Operations 2018."