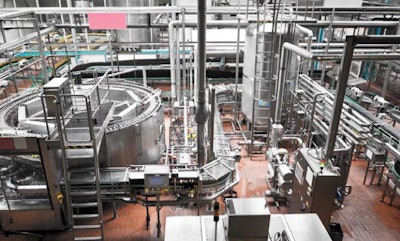 According to respondents to a report by PMMI Business Intelligence, if machines are not operated or maintained as specified, breakdowns occur, and employees on the production floor need more training to run the equipment as it was designed.
Training can also be a viable profit center for equipment providers if they provide programs that result in significant improvements in plant operation effectiveness.
In-person training classes could address a company's most critical challenges, and help companies operate, adjust and maintain equipment.
Training videos should be made available for all aspects of maintenance and operation.
An HMI (Human Machine Interface) tied to a PLC (Programmable Logic Controller) is a machine simulator option for getting beverage company employees to work with advanced HMIs – an aspect of the machinery that is generally seen as the most complex and challenging.
Simulators in which companies link software to a machine in the plant, and then watch the process activity on another machine remotely can create an office or classroom-style training program.
Apprenticeship and coaching programs:
Some companies provide customized, intensive training programs to develop field service technicians within about eight weeks. Class sizes are small and allow employees significant one-on-one time with trainers while working directly with equipment.
Coaching is a newer type of one-on-one training for equipment providers. For an operator coaching program, formal training can take just a day or two, followed by four to five full days of ongoing, one-on-one mentoring in real world situations and day-to-day experiences.
Coaching programs are perceived as more effective learning environments, since trainees learn by doing their job rather than learning in a presentation format.
Operators who go through coaching are now also trained to handle minor repairs on the equipment they are running to reduce the workload on maintenance staff.
One General Manager of an equipment provider said, "We see a new trend in which people are trained to be 'autonomous operators' where the operators do minor repairs on the line that are relatively easy to fix. This can really save the maintenance staff having to run from fire to fire in the production plant."
For more details about this and other beverage trends and growth, download the FREE Executive Summary below, or the full report here.
See Education and Workforce training opportunities provided by PMMI, here.
Source: PMMI Business Intelligence, "Beverage Trends in Packaging and Processing Operations 2018."