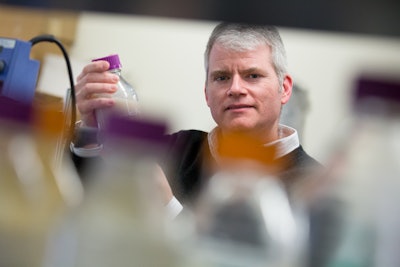 Crab shells and wood have more in common than one might assume. Researchers at Penn State University are using these readily available, natural items to create an inexpensive, eco-friendly biomaterial that they say can be used to replace petroleum-based plastic packaging while significantly reducing pollution.
This new biodegradable barrier coating that the Penn State researchers developed is composed of equal parts treated cellulose pulp (carboxymethyl cellulose) and chitosan — both abundant, economical and compostable materials. Cellulose pulp comes from wood or cotton, while chitosan is derived from chitin, the main component found in the exoskeletons of arthropods and crustaceans, such as lobsters, crabs and shrimp. Using an aqueous buffer, both materials are blended at an ultra-high shear rate to create a polysaccharide polyelectrolyte complex. The different molecular charges of chitosan (a cationic positive charge) and carboxymethyl cellulose (an anionic negative charge) lock together and electrostatically bond to create the foundation for an impervious film and adhesive.
High performance
The Penn State researchers found that this polysaccharide polyelectrolyte complex performed well during the research trials. Paperboard coated in the biomaterial demonstrated strong oil, vapor and water barrier properties. It also proved to be resistant to salt, toluene and heptane.
"It meets TAPPI T 559, the industrial standard for grease resistance," says lead researcher Jeffrey Catchmark, professor of agricultural and biological engineering at Penn State's College of Agricultural Sciences. "It resists oil and aqueous water-based solutions at a pH from at least three to nine, which is important for the food industry."
In addition to coating a variety of food packaging surfaces, the biomaterial is also suitable as an adhesive for packaging. "If you use the formulation to bind two surfaces, it simply acts as an adhesive," Catchmark says. "It's remarkable."
"This is essential in packaging because it's not just the ability to have a surface be the barrier. You also want to be able to make more complex products," he adds. "You want to make clamshell packages and cups that require an adhesive to adhere the paperboard surfaces to make the final product. Our new biomaterial acts as both the coating and the adhesive."
Environmental impact
With its robust barrier properties and biodegradability, the biomaterial could replace millions of tons of petroleum-based plastic in food packaging globally and substantially decrease plastic pollution, Catchmark says. "I'm very interested in trying to make an impact in the world by getting this technology into products so that we can reduce pollution," explains Catchmark, who has spent the last decade researching and developing sustainable materials that could serve as viable alternatives to synthetic materials like Styrofoam and PET. "Essentially plastic and other chemical pollution are creating problems in our ecosystem. Plastic is a very significant problem that we have right now."
According to a 2017 research study published by the University of Georgia, University of California at Santa Barbara and Sea Education Association in the journal Science Advances, more than 400 million metric tons of plastic were produced globally in 2015. The researchers found that about 91 percent of plastic isn't recycled, with 79 percent finding its way into landfills and the natural environment. The largest market for plastic is packaging, which has accelerated the global growth of plastic as consumers shift from reusable to single-use containers, according to the study. If current plastic production and waste management trends continue, the researchers predicted that about 12 billion metric tons of plastic waste will accumulate in landfills and the natural environment by 2050.
Protecting the bottom line
While most people acknowledge plastic pollution is a growing and serious issue, Catchmark recognized that the problem wouldn't be enough to persuade food and beverage companies to try a sustainable alternative to plastic. That's why the Penn State team specifically experimented with economical, accessible industrial materials like chitosan and cellulose that wouldn't hurt food and beverage companies' bottom line. Because all plants make cellulose, it is one of the most abundant, inexpensive organic compounds on Earth. It's just as easy and affordable to obtain chitosan as well because it is a byproduct of the shellfish industry. According to the Food and Agriculture Organization of the United Nations, every year 6 million to 8 million tons of waste crab, shrimp and lobster shells are discarded. Instead of tossing them, these waste shells could be recycled to create the biomaterial Penn State developed.
"Cellulose and chitosan are the highest volume, lowest-cost, biologically-derived polymers out there," Catchmark says. "Our invention leverages something that is already made in huge quantities. These polysaccharides are among the cheapest, sustainable, ecologically compatible, compostable materials that exist in nature. It may be the only solution out there that offers this kind of barrier performance at a cost point that can potentially beat plastic."
After six years of working on this biomaterial coating and adhesive, Penn State is seeking a patent for it and collaborating with some paper, food and beverage manufacturers and packaging companies to bring it to market. Catchmark expects the biomaterial to make its mark in the industry and the environment.
"It's a disruptive technology," he says. "People have explored polysaccharides for a long time and have not seen this kind of performance before. We've created a very manageable solution. It's something that is manufacturable, easy to produce, very cost effective and good for the environment. It's a win across the board."