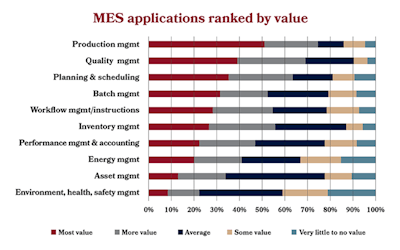 Manufacturing execution systems (MESs) and historians have never been the sexiest technologies. But they are champs at handling data. So, in an age of increasingly connected assets and the Industrial Internet of Things (IIoT), these stalwarts are getting new attention.
After explosive growth in the late 1990s and early 2000s—only to contract as a result of acquisitions by major enterprise resource planning (ERP) and automation suppliers—MESs and historians seemed destined to serve only as middleware for ERP data aggregation purposes. But all the activity around manufacturing intelligence, artificial intelligence (AI), IIoT and Industry 4.0 are bringing MESs and historians to the fore again, often in more modular, service-based formats delivered on the cloud.
MESs and historians have been critical components of the industrial software platform because they sit squarely between the real-time world of the plant floor and the more transactional world of business IT. Today, manufacturers face a compelling need to make better decisions so that they can respond faster to market demand and produce a diverse mix of personalized products at a lower cost with near-perfect quality. Next-generation MESs and historians help enable manufacturers achieve these business objectives.
Not your father's MES
Many of the newer MES applications are integrated software packages that include quality management and traceability, regulatory compliance documentation, planning and scheduling, energy management, and manufacturing intelligence and analytics, in addition to workflow enforcement and cloud capabilities, according to Janice Abel, principal consultant at ARC Advisory Group.
ARC research indicates that MES technology use continues to increase at a rate faster than automation in general, largely due to its ability to help optimize production for operational excellence. In a joint ARC/Automation World survey, MES users said they received the most value from production management, quality management, and planning and scheduling applications.
Though fewer than 10 percent of the companies responding to the survey said they are making extensive use of predictive analytics, the majority of respondents have some predictive analytics applications or are starting to investigate the possibility. This is true for both production decision-making and asset management applications. About one-third of the respondents have deployed IIoT implementations, and more than half said they may do so in the future.
These new capabilities are driving the new age of MES, says Andrew Robling, product marketing manager at Epicor. "I do think there is a resurgence," he says. "Having been in the manufacturing industry for almost 20 years, MES now is not just something that plants want to do, it's a requirement to stay efficient and competitive. It's a must-have."
There's more pressure on the MES to contribute to the bottom line of the company and be the embodiment of the corporate strategy on the plant floor. Manufacturers are becoming more efficient at the same time that they are becoming more data-intensive. Data is streaming in from different sensors, and they seek a more holistic MES to help operate the plant.
"That's the nature of today's competitive global marketplace," Robling says. "Everyone is looking for an edge. How can I stay competitive? How can I make sure that I am not making bad parts?" A major role for MES is to supply the production data that populates quality key performance indicators (KPIs), he adds. "I can't risk reducing my rating with my customers. I don't think quality can be overrated."
Leading the digital transformation charge
If digital transformation is about leveraging new technologies and data to overhaul everything from back-office operations to product development to business models, MESs and historians are leading the charge.
"Manufacturers big and small have all gotten the digital memo and they are all looking to leverage digital technologies to transform their business, drive growth and reduce operational costs," says Keith Chambers, director of operations and execution systems at Schneider Electric. This has resulted in an explosion of activity in IIoT, Industry 4.0, cloud and advanced analytics that has definitely driven increased interest in historians and MES, he adds.
IIoT enables new digital connectivity to data sources outside the traditional connectivity paradigm of programmable logic controllers (PLCs) and plant-wide networks, adding more context to existing data and information. Analytics, manufacturing intelligence and advanced analytical tools such as artificial intelligence help to transform and contextualize time-series and transactional raw data into actionable insights, uncovering hidden improvement potential. Cloud technology removes the IT infrastructure and footprint complexity related to on-premises systems, and offers flexibility to the plant and across the enterprise.
IIoT technology is also facilitating connectivity to the cloud from the plant systems or mission-critical on-premises information management applications. Schneider Electric is seeing customers take advantage of these technologies today within its EcoStruxure Industrial Software Platform. For example, New Belgium Brewing was able to decrease downtime by more than 50 percent by implementing EcoStruxure and Wonderware MES. Even more impressive, New Belgium officials said, the brewery's critical overall equipment effectiveness (OEE) measures increased from 45 percent to more than 65 percent over a two-year period.
Cloud reduces risk for many MES functions
Many MES/historian software vendors now offer cloud-based delivery models of their offerings. Though most manufacturers are understandably reluctant to move production execution functions to the cloud—the risk is too great—information aggregation and visibility are two functions that make a good fit with cloud technology.
"Many functions can be moved to the cloud and the risk is not as high," says Raj Jakhete, senior director of business development for Factora. "When you use MES for execution, you are doing critical process functions in the plant. Moving that to the cloud, you would have to be very careful. If something goes wrong, you're talking about stopping production—many dollars lost for a few cents gained."
MES data unlocks insights that drive quality
As with the brewery example above, many manufacturers are using MES data to get a better understanding of OEE as part of a larger manufacturing intelligence (MI) or Industry 4.0 initiative. "Manufacturers want to be able to adopt the golden metric of OEE," says Louis Columbus, principal at IQMS. Even better, they want to be able to look at OEE across plants.
MI is centered around the ability to use the data from sensors by leveraging a variety of different technologies, according to Columbus. "Every machine will have an IP address and every machine will be able to diagnose itself," he says.
Each machine will have a baseline series of demographic metrics—called the descriptive layer of MI. At the predictive layer, manufacturers begin to use Big Data and machine learning (ML) to predict when a machine is going to break down. At the highest level, Columbus adds, is the cognitive layer, where AI is used to orchestrate and model the supplier network.
At the end of the day, quality is king because it relates so inexorably to customer experience and satisfaction. MESs that handle quality data, such as track and trace, audit, inspection and regulatory data, are key to the future of a business.
"Ninety-six percent of manufacturers say product quality defines their success in the eyes of their customers," Columbus says. "Old-school CEOs would only worry about metrics that were within the four walls of their plant. Now they take the metrics and inject customer outcomes into them."
MES is the intelligence machine that orchestrates many different dimensions, says Raffaello Lepratti, vice president of development and marketing for the manufacturing operations management (MOM) group at Siemens. Siemens has changed its MES nomenclature to MOM, which it believes captures the broader scope it enjoys today. "Quality, execution, compliance—we are providing an MES with a set of capabilities to orchestrate and contextualize data from all these different disciplines," Lepratti says.
The changing nature of MES
Some vendors are beginning to provide the traditional MES/historian competencies—interfacing with control, executing, tracking and collecting data—in a modular, more consumable, service-oriented fashion.
Rather than the usual monolithic MES, "these capabilities may come in a different shape and form," says Martin Dittmer, product manager for Rockwell Automation. "Now, these capabilities will be provided in smarter assets and equipment. This has interesting consequences, providing a more granular view on an MES system." Going forward, classic MES capabilities could live in smart assets or be provided in a cloud architecture, he notes. "MES will move into smaller, more granular aspects of supporting the business."
Vendors are about to lose the investment they made in traditional monolithic MESs, Lepratti adds. "These companies will not be able to stay competitive if they are not extending their MES," he says, noting a clear trend to broader portfolios with product lifecycle management (PLM), operations management and controls, as well as discrete functions.
The trends can now make MES much more economical, according to Jakhete. "Now, with IIoT data coming right into a historian, it's a much lower-cost solution," he says. "The business case is much stronger. Mid-size manufacturers can afford to have the much smaller version of MES, giving them better information for decision-making and all the other benefits."
Many mid-size manufacturers are using modular, lighter-weight MES as the first step on their digitization transformation journey, reserving the bigger pieces of changing how they do business for another day.
Companies in this article